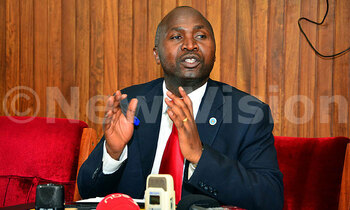 KAMPALA - Patrick Nkalubo braved the midmorning rain to file an application in the civil division of the High Court, seeking to block his rival Theodore Ssekikubo from swearing in as the Lwemiyaga county MP.

However, the application failed to achieve its intention when three hours after it had been filed, Ssekikubo walked triumphantly to the podium with tears of joy rolling down his cheeks, and amidst cheers, he took the oath.

In his application, Nkalubo had wanted court to direct the clerk to parliament to stop Ssekikubo from taking the oath until his application for a vote recount lodged at the Masaka Chief Magistrates' Court is heard and determined.

He said that when the returning officer declared Ssekikubo winner of the hotly contested elections, he was dissatisfied and decided to petition court over it.

At the start of the hearing of the case at Masaka Chief Magistrates Court, Ssekikubo's lawyers challenged the jurisdiction of the court to hear the matter and applied to appeal against the decision of the chief magistrate to proceed with the hearing.

Instead of granting their request, the chief magistrate referred the matter to the Constitutional Court for interpretation.

The Constitutional Court, in its ruling, dismissed the reference and ordered that the matter be referred back to the magistrate and urgently be concluded.

"The second respondent (Ssekikubo) misrepresented to the Electoral Commission that my application for a recount had been dismissed by the Constitutional Court and demanded that his name be gazetted based on the misrepresentation," he stated in his affidavit.

Nkalubo stated that in contempt of a court order made by the chief magistrate, on April 29, the Electoral Commission gazetted Ssekikubo.

He said that at the hearing of his case as directed by the Constitutional Court on May 5, his lawyers brought to the attention of the magistrate the illegality committed by Ssekikubo and the magistrate reversed it by making an order for him to be degazetted.

"Ssekikubo then went ahead and sought an order staying his degazettement but unfortunately it came after he had already been degazetted," he stated.

Nkalubo contends that he was shocked to see Ssekikubo's name listed by the clerk of parliament among other legislators slated to swear in on May 18.

He said that he will suffer irreparable damage if Ssekikubo is sworn in yet there is an ongoing recount application in the court.

The application is yet to be allocated a judge to hear.