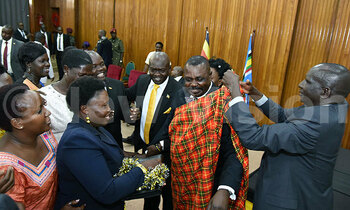 So what's happening around Uganda lately, you wonder? Of course, the Ugandan parliament soaked in much of the attention in a special session to elect their Speaker and deputy. Take a look . . .
Kamuli Woman MP Rebecca Kadaga was on Thursday unanimously elected Speaker of the 10th Parliament, and was congratulated by fellow legislators.
She took the oath as NRM party chairman President Yoweri Kaguta Museveni looked on.
After his victory, Deputy Speaker Jacob Oulanyah received the Mace of Parliament from President Yoweri Museveni during the election session.
Jacob Oulanyah beat his sole challenger Kampala Central MP Mohammed Nsereko to the post of Deputy Speaker. Here, he receives the Uganda Constitution from President Museveni.
Like a true honorable, Oulanyah's challenger Mohammed Nsereko congratulated him after Oulanyah was declared winner.
EARLIER: THE VOTING . . .
Gen Katumba Wamala, who is the UPDF representative in parliament, appeared in a good mood when he cast his vote.
Wearing an elegant blue dress, Nabilah Naggayi, Woman MP for Kampala, also cast her vote during the session.
Prof. Ogenga Latigo, who has been a leader of opposition in parliament before, voted.
Dressed in traditional regalia over his suit (and trademark bow-tie), Oulanyah was delighted with his victory and was congratulated by his colleagues.
And here, President Yoweri Museveni is snapped greeting Mohammed Nsereko, who was defeated by Oulanyah.
ELSEWHERE . . .
Meanwhile heavy rains in eastern Uganda have destroyed four bridges along major highways in Manafwa and Bulambuli districts. Here, a motorcyclist (boda boda) frees his bike's wheels of mud along the affected Muyembe-Nakapiririt route.
Another motorcyclist rides over a damaged Nabujimbi bridge on the same route.
The damaged bridge, coupled with the muddy road bearing numerous potholes, has paralysed motor traffic along the Muyembe-Nakapiripirit route. Motorists and cyclists have to cross the narrow bridge in turns, according to New Vision correspondent Daniel Edyegu.
In Nebbi Town Council, authorities have given a 45-day ultimatum for kiosk owners and those with makeshift structures in the town center to relocate or be evicted forcefully.