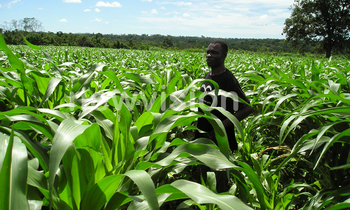 Uganda could lose its indigenous crops in 10-years given the climate changes and the rampant pestilences affecting crops.

According to scientists who subscribe to the 'Uganda Biotechnology and Biosafety Consortium' (UBBC), this might lead to food shortages and hunger in the country.

They argue that this can be averted if the country adapts the Biotechnology and Biosafety Bill 2012.

The bill provides a framework to ensure that the development and use of GM organisms and products do not negatively affect plant, animal and human health, agricultural systems or the environment.

The chairman of UBBC, Dr. Erostus Nsubuga warned that if nothing is done in 10 years, Uganda is going to lose majority of the indigenous crops which majority of people depend on.

He notes that the country needs to embrace biotechnology like Kenya before it is too late.

"Many of our indigenous crops are disappearing due to rampant pests and diseases. That is why we need this law to adapt to Genetically Modified Organisms (GMOs) which are resistant," he adds.

Nsubuga stresses that several farmers have resorted to buying all types of seeds on the market which are at times fake and dangerous to soils, and human health.

He explains that the Biotechnology and Biosafety Law will help to regulate all the imported GMOs and also ensure safety of those developed locally.