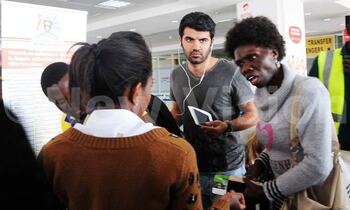 In response to the yellow fever outbreak reported in the districts of Masaka and Rukungiri, government has received vaccines to carry out mass vaccination in the affected areas.

According to a press statement released by UNICEF today, a total of 714,579 doses of yellow fever vaccine, worth $643,765 (about sh2b) had been handed over to the Ministry of Health.

The vaccines procured by GAVI alliance were approved through the International Coordination Group on vaccines.
The group comprises of United Nations Children's Fund (UNICEF), World Health Organization (WHO), Médecins Sans Frontières (MSF), and the International Federation of Red Cross and Red Crescent Societies (IFRC).

Since the outbreak in January this year, a total of 30 suspected cases and 11 deaths have been registered in the two districts. The viral infection that is transmitted to humans through a bite from a mosquito carrying the yellow fever virus was last reported in 2010 in the northern part of the country.

The vaccination campaign according to the statement is scheduled to begin this month. This will target a population of 698,850 people, aged six months and above in the two districts where the outbreak was confirmed.
"The importance of carrying out a massive vaccination campaign is to interrupt the transmission. With this exercise, the affected population will be able to achieve immunity against yellow fever," said Aida Girma, UNICEF representative in Uganda.

According to the chairperson of the National Task Force, the Director General of Health Services Ruth Aceng, the response plan is to reduce avoidable morbidity and mortality due to the outbreak.

Yellow fever, according WHO, has no specific treatment; however, it's recommended that patients should be provided with supportive treatment which includes rehydration therapy, analgesics for fever, diazepam for restlessness, and bed nets for preventing the spread of infection.


"Vaccination is the major preventive measure against the disease because it is highly effective," said Dr Wondimagegnehu Alemu, the WHO country representative in Uganda.

The disease manifests with such symptoms as rapid onset of fever, abdominal pain, diarrhea, vomiting, general body weakness, vomiting, yellowing of the eyes, loss of appetite and bleeding from any part of the body. The most at risk populations are those that are not immunized against the disease and people who live and work in forests.

Currently yellow fever vaccination is carried out on demand especially by Ugandans intending to travel as a Visa requirement. It costs between sh50,000-sh100,000 in private health facilities and Kampala Capital City Authority Clinic at City Hall.