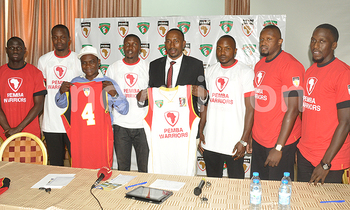 The Pemba Warriors has been boosted by four new signings as they tip off the 2016 season against the Falcons at the MTN Arena, Lugogo on Sunday.

Top of the lot is Nigerian Ahmed Temitope who has had stints with clubs in Indonesia, Thailand and Malaysia among others.

Others are Caesar Kizito and Phillip Ameny who join from the Falcons and Power respectively, Isaac Kamya and old guard Eric Malinga who is returning after a two year break from injury.

The players were unveiled together with the new team kit during a press conference at Imperial Royale Hotel where Warriors team manager Brian Gumisiriza said the new signings were necessitated by the lack of depth in the team as per last year's league.

"From last season we felt we were lacking in a few areas as a squad and felt we had to add new players and we have from the new signings put emphasis on the power forwards and centers that we were lacking," Gumisiriza said.

Club president Ambrose Tashobya said over the years, the team had been working very hard to remain at the top and had earlier on signed a partnership with Pemba to ensure the team grows from a national competitor to a continental one.
"Our focus this year has been to rebrand and we hope we can be a model of what a good sports club should be," Tashobya said.

"We believe the new partnership can help the players to perform at their best and our target this year is majorly to qualify for the Zone V Club Championship because we are positioning ourselves as a continental brand; and we want to be in the championship cup, that is the target I have set for the team and coaches," Tashobya stated.

He believes that if that is achieved then they can even strengthen more and remain competitive at that front as they work on acquiring a permanent home (court) for the club.

Without disclosing the figures involved in the acquisition of the players Tashobya said the players will be facilitated in confortable way to have them deliver.

"We believe in building these athletes into responsible persons in our society so we facilitate then to play basketball but hopefully we are able to build them into useful people," Tashobya remarked.

Jackson Pemba the Chairman of the PSA said the Warriors were his life and the company was in the country to help grow the different sports in the country.

The company is also going to produce replica jerseys and other merchandise for the fans including sports bottles and T-shirts.