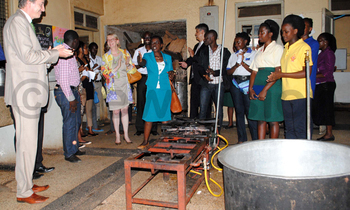 Students of Gayaza High School joined the rest of the world to celebrate the youth and climate change day.
The fun filled event coincided with the signing of the UN framework agreement on climate change, which was designed during the COP21 conference in Paris last year. Prime Minister Ruhakana Rugunda signed on behalf of Uganda in New York.
Signed by 195 nations the landmark agreement is aimed at strengthening the global response to the threat of climate change, in the context of sustainable development and efforts to eradicate poverty.
Students showcased the biogas project which powers up the school's kitchen.
Since 2013, biogas has been a key source of energy for the 111-year old school, cutting down the expense of buying fuel while preserving a significant number of trees and reducing carbon emissions from the burning wood.
"We mostly used firewood in the past, but later realized that we were wasting our environment. We have since switched from using firewood, and hope to expand and use it for electricity," Tracy Lawino, a senior six student said in an interview.
They also showcased plays, music and dance to raise awareness about the contribution of the young generation to the climate change agenda.
Speaking at the event, the European Union Ambassador Kristian Schmidt urged students to participate in activities that are aimed at saving the environment.
"Although Africa contributes the least percentage (less than 1%) to greenhouse gas emission, it is the most vulnerable to the effects of climate change; no one is more important than the next generation," he said.
Likewise, the Sophie Makame, the French Ambassador to Uganda, lauded Gayaza High School for its various initiatives towards environmental conservation.
"I wish the next generations will have a chance and the right to see and enjoy this nature as we can do now," she said.