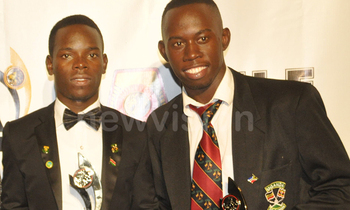 Nile Special-USPA Sportsman of the Year 2015 Ronald Otile's wish is to win the award again despite the tough qualities that come prior to getting it.

But he has even bigger ambitions as him and Daniel Baguma head south to attend college as well as pursue improvement in their golfing careers at the University of Pretoria.

The two budding golfers from Toro Club are set to fly out on Wednesday to Cape Town to attend college at the university where they will study as well as pursue their golfing careers.

Otile will be doing the 'Champ Elite Golf' course designed to help people become serious professionals while Baguma will do a PGA Diploma Golf Course for both professionals and management of the game.

The R&A will partially sponsor the two for three years through the Turks Golf Academy at the University of Pretoria with both pursuing academic programs besides golf. The Uganda Golf Union and the entire golfing fraternity will cover other expenses.

"I want to return as a qualified professional after the course and start competing in those big tournaments," Otile said.

Daniel Baguma dream is also to play and earn some cash at the Sunshine and PGA tours after the three-year course but that won't stop him from pursuing other jobs if the chance doesn't come his way.

"Hopefully by 2018 I should be playing in the Sunshine tour but if doesn't work out, I will continue playing the game while doing other things," Baguma stated.