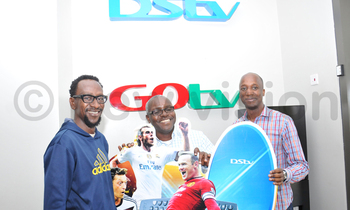 Have you been waiting for either Urban TV or TV West to get onto DStv? Well, your wait is just about to end because the Vision Group broadcast media outlets are set to join their sister Bukedde TV on DStv, the continent satellite television giant.
"As MultiChoice, we are proud to announce that effective May 4th, at exactly 11am; we will have Urban TV on channel 288, and TV West on channel 289, on the DStv platform," announced Charles Hamya, the General Manager of MultiChoice Uganda at a press briefing in Kampala.
"There are many of our clients that have been demanding for Urban TV and TV West on DStv. We know that Urban TV is the fastest growing TV among the youth, and TV West is the leading local television station in the western region of the country."
Robert Kabushenga the Vision Group CEO expressed his delight at two of the fastest growing television stations in the country joining DStv.
"You have saved me from constant abuse; people have been asking me when Urban TV and TV West will be available on DStv," he said.
Michael Owor, the Urban TV station manager said with the country's English-only television station going on DStv, the sky is the limit.
"This could not have happened at any better time. This is something we have been looking forward to for the last four years. I am glad that many more people will be able to access our cutting edge production," he said.
"Tell a friend, tell a friend, and tell a friend—that Urban TV is getting on DStv.
Urban TV, TV West and Bukedde TV are already on MutiChoice Uganda's digital terrestrial television platform GOtv.