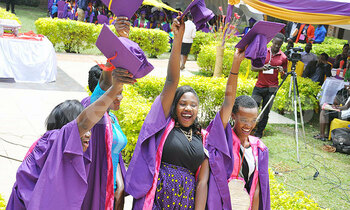 KAMPALA - A total of 102 students have graduated from Global Institute of Informational Technology & Business Makerere (Gi-IT) in Kampala.

Of these, 56 were female (54.9%) while the 46 males represented 45.1% of those who graduated.

The institute offers courses in business and management, information technology, media and journalism and health sciences.

Enoch Mutambi, the acting director of Civil Service College Uganda, urged the graduates to utilize skills gained to advance their career in further studies.

And senior research fellow of Economic Research Policy, Dr. Isaac Shinyekwa, urged them to use the latest technology to create innovations to employ themselves.

He advised the fresh graduates to uphold upright moral values and not be swayed by social media.
On his part, the director of the institute, Ben Opolot, warned the graduates against corruption in their career paths.

The deputy director, Elizabeth Opolot, encouraged students to develop an attitude to grow, be determined and trustworthy.

To succeed in life, she also told them to be exemplary, approachable and reliable.
Ben Opolot, the institute's director and his wife Elizabeth, who is his deputy
These fresh graduates presented a comedity skit