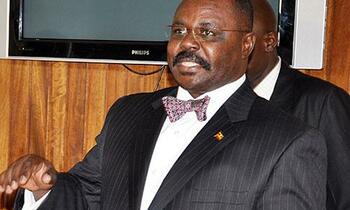 Deputy Speaker of Parliament, Jacob Oulanyah, has scoffed at a petition before the High Court in Gulu district, challenging his victory in the February 18 elections.
Oulanyah, who wants to unseat his boss, Rebecca Kadaga (Kamuli Woman MP) as Speaker of the 10th parliament, submitted his letters of interest to the National Resistance Movement (NRM) electoral commission this week for preliminary screening before they are filed with the party's central executive committee for final vetting.
He was re-elected as Omoro County MP, but his critics say it is not yet victory for him because he was announced winner minus reading out election results.

However, Oulanyah told New Vision that the petition filed by his rival from Forum for Democratic Change (FDC), Simon Toolit, was "another game of politics".
"I don't know where people get this thing of announced without results. The returning officer (Benson Obete) said he was going to give the results after announcing the winner and that is what he did. The results were later that evening transmitted to everybody," Oulanyah, who wants to be Speaker of the 10th Parliament, said.
Oulanyah, stressed that he was not the only person declared winner that day. "The first person to be announced was Betty Aol (Gulu Woman MP, FDC), second was Lyandro Komakech (Gulu Municipality MP-elect, DP), third was Peter Okot (DP) who won Toki county, a new constituency in Gulu. I was the fourth and fifth was Reagan Okumu (Aswa County). There were results he (Obete) based on to announce. He gave the written one later," Oulanyah argued.
He said he did not know why it became an issue. "It became a big issue because people wanted to make it a big issue. That petition is another game of politics. It's not a legal matter," he said.
Oualanyah argued that if "Toolit was so aggrieved, why did he wait until the last moment to file his petition?"
"Why didn't he file it immediately? He waited and filed it on the Easter Eve," he asked. He was recently responding to questions about his victory. Toolit polled 6,823 votes while Oulanyah from the ruling party got 8,218.
In the petition, Toolit claims Oulanyah was dubiously announced winner by the returning officer.
"I got dissatisfied with the election results that were changed forcibly yet I was winning in the preliminary results putting me at 7,169 votes while Oulanyah had 7,053 votes. Later, we were shocked by Electoral Commission results that I got 6,823 votes," Toolit said.