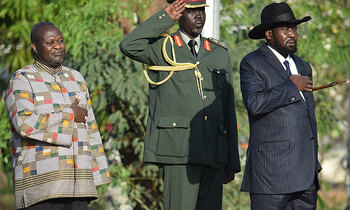 South Sudan's rebel chief Riek Machar finally returned on Tuesday to the capital Juba, where he was sworn in as vice-president of a unity government formed to end more than two years of civil war in the world's newest country.

His return, delayed by a week, is seen as a crucial step towards cementing a fragile peace deal brokered in August 2015.

The conflict in South Sudan, which won independence from Sudan in 2011, has pitted government troops loyal to President Salva Kiir against those of Machar, who was sacked as vice president five months before the war began in December 2013.

Tens of thousands have been killed and more than two million people forced from their homes.

The UN says South Sudan ranks "lower in terms of human development than just about every other place on earth".
Here are key events in the war.

2013

December 15: Heavy gunfire erupts in Juba, where tensions have risen since July when Machar was fired as vice-president. Kiir blames Machar for an attempted coup, but Machar denies this and accuses the president of purging his rivals. Fighting spreads and rebels seize key towns.

2014

January 10-20: Uganda sends troops to back Kiir. Government troops recapture the northern city of Bentiu, capital of oil-rich Unity State, and Bor, capital of the eastern state of Jonglei.

April 15-17: More than 350 civilians are massacred in Bentiu and Bor, according to the UN.

August 26: A UN helicopter is shot down, with three onboard killed. Each side blames the other.

2015

February 1: Kiir and Machar sign a new agreement to end the fighting, the latest in a series of deals. Like the others, it is broken within days.

June 30: South Sudan's army raped then torched girls alive inside their homes, a UN rights report says, warning of "widespread human rights abuses". Rebels have been accused of similar atrocities.

July 2: UN and US sanctions decided against six leaders from both sides.

August 17: Machar signs a peace deal in Addis Ababa.

August 26: Kiir signs the peace accord, but issues a list of "serious reservations". Fighting continues.

October 3: Kiir nearly triples the number of regional states, undermining a key power-sharing clause of the peace agreement.

October 28: African Union investigators list atrocities committed, which include forced cannibalism and dismemberment.

November 5: UN experts warn that killings, rapes and abductions continue and that both sides are stockpiling weapons. Over two dozen armed groups are involved in fighting characterised by shifting alliances, opportunism and historic grievances.

November 27: Some 16,000 children have been forced to fight, amid a growing humanitarian crisis, the UN says. More than 2.8 million people, almost a quarter of the population, needs emergency food aid.

2016

February 8: UN agencies warn at least 40,000 people are being starved to death in the war zone, with rival forces blocking aid.

February 12: Kiir reappoints Machar as vice president.

April 11: A 1,370-strong rebel force completes their arrival in Juba ahead of Machar's expected return. A day later South Sudan's rebel deputy chief Alfred Ladu Gore returns to the capital.

April 25: South Sudan's top rebel military commander Simon Gatwech Dual returns as well.

April 26: Machar returns to Juba and is sworn in as vice-president.

UN Secretary-General Ban Ki-moon calls for a new unity government to be immediately set up.