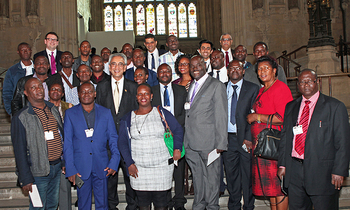 A Ugandan business delegation landed the golden ticket this week when a reception was held in their honour in Britain's Houses of Parliament.

The delegation travelled to London with the Barclays Business Group and Lord Popat, the UK's new Trade Envoy to Uganda, hosted the reception in Westminster.

As part of a new strategy to build stronger economic links between the UK and Uganda, Prime Minister David Cameron has appointed Lord Popat - who was born in Uganda - as his trade representative.

The 30 strong delegation of entrepreneurs were treated to tea and cakes in the House of Lords, before getting a chance to meet Ministers and UK businessmen and receiving a guided tour of the Houses of Parliament.

Addressing the delegation in the Attlee Room, Lord Popat welcomed them to the "Mother of all Parliaments" and told the room he was "honoured to have been appointed to this new role".

He continued "today is my first official engagement as Trade Envoy "Uganda has amazing potential; My job is now to do all I can to help increase business and trade links between our two countries."

"We have many Ugandans here in the British Parliament including myself, Archbishop Sentamu, Shailesh Vara, Lord Sheikh and Priti Patel; if we were to form our own party we'd be the fourth largest opposition group!"

Responding on behalf of the guests, Anette Kiconco the delegation leader and Head of Enterprise Banking for Barclays said that "it was a great honour to be in Parliament and we are very grateful to Lord Popat for hosting today's event."

She continued "It's very encouraging to hear that here in London you share our enthusiasm for Uganda's future and we hope we can do lots of business together. We look forward to welcoming you in Kampala!"

Lord Popat is due to visit Kampala in late June on an official visit and is giving the keynote address next week at the UK-Uganda Healthcare Summit in London.