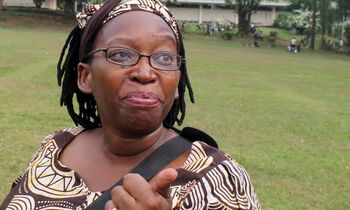 Dr. Stella Nyanzi has no case to answer under the Anti -Pornography Act as per Minister Simon Lokodo's orders, her lawyer Isaac Kimeze has argued.
"Mr Lokodo should keep his mouth shut in regards to challenged Anti-Porn Act. Every statement he makes is sub judice. Given that Anti-Porn law is currently being challenged, Mr Lokodo has nothing to whip against Dr. Nyanzi," Kimeze told a local TV station on Tuesday.
Lokodo ordered police to apprehend a Makerere University professor Stella Nyanzi for stripping in public protesting closure of her office.
According to Lokodo, Dr. Nyanzi will be charged under the Anti-Pornography Act. If court finds her guilty of the offence as per Clause 3 of the Act, she will get a two-year jail sentence or a fine of 500 or both.
But Kimeze submitted that the Anti-Pornography Act is currently being challenged in court by the civil society. All criminal prosecutions under this law are on hold, he added.
"The law doesn't criminalise Dr Nyanzi's acts. Nudity has for long been used as a form of peaceful protest. We can't legislate on everything including morality. Nudity is not a pressing issue in Uganda," he said.
Kimeze said Ugandans were not exhaustively consulted on Anti-Porn law and it later posed a great threat to women some of whom were harassed.
"Anti-Porn Act can only bite in regards to child porn only," Kimeze explained.
Makerere Institute of Social Research (MISR) director Mamhood Mamdani issued a statement on Saturday explaining the background to the management decision for her to vacate her office at MISR and take a seat at the MISR library because she had refused to teach in the MPhil/PhD programme.
In the statement, he indicated that Dr. Nyanzi in her application for the post of Research Fellow at MISR, she assured senior staff that she intended to teach in the PhD programme in line with resulutions passed by the University Senate in November 2011 and accredited by the National Council for Higher Education in July 2012.