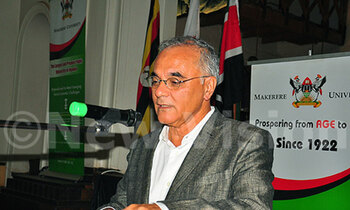 Prof Mahmood Mamdani has attacked Makerere University vice chancellor Prof. John Ddumba Ssentamu saying he has no moral authority to participate in a probe into the alleged wrangles at the Makerere Institute of Social Research (MISR).

In a press release issued today (19th April 2016), Mamdani who is currently the director of MISR also described Ddumba as partisan.

This comes in the wake of a nude protest by MISR's senior staff member, Dr. Stella Nyanzi after she was asked to vacate the office she was occupying.

Ddumba yesterday announced that he was setting up a committee to investigate the claims and report to him.


However, Mamdani responded: "The Vice Chancellor (VC) lacks the moral authority and objectivity to set up and provide oversight for such a Committee. He is partisan and has a clear conflict of interest due to his close family relationship with Dr. Stella Nyanzi. The VC should exclude himself from the process. This would allow the Committee to conduct its work in an impartial manner as well as to look into the VC's own conduct, in particular, the extent of the VC's involvement in encouraging, fomenting and prolonging insubordination of both Dr. Nyanzi and a few graduate students of MISR, all of whom have been increasingly emboldened by what they see as the support towards their cause from the highest office in this institution…"

Mamdani stated that the image of MISR in the academic world had been adversely affected as a result of Nyanzi's protest.

"Dr. Stella Nyanzi defaced walls, vandalised property, hurled insults at the leadership of MISR and intimidated MISR staff and students, all of this with impunity. No self-respecting academic will want to come to MISR if these circumstances continue. The best students will look for alternatives. Donors will look for other places to put their money."

He added: " Until yesterday, we had demanded that Dr. Nyanzi teach in the doctoral programme. Now, the presence of Dr. Nyanzi threatens the very survival of the PhD program. Rather than teach in the PhD program, Dr. Nyanzi should be transferred to any other unit in the University that will accept her."


Mamdani's communication is copied to the chairperson of Makerere University Council, the chairperson of the appointments board, and the deputy vice chancellors, Dr. Nyanzi, the academic staff and students.

Prof. Mahmood Mamdani's detailed response

RELATED

Lokodo orders police to arrest Dr. Nyanzi for stripping

Dr. Stella Nyanzi strips naked at Makerere University