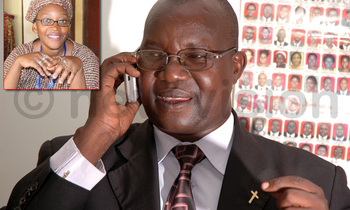 Dr Stella Nyanzi has hit back at Fr. Simon Lokodo, the state minister for ethics and integrity urging him to "go and arrest his relatives the Karimojongs who walk naked before coming to me."
Her reaction came after she emerged 'victorious' after regaining her office. Minister Lokodo ordered police to apprehend a Makerere University professor Stella Nyanzi for stripping.
Dr. Nyanzi who works at Makerere Institute of Social Research stripped and shared nude pictures on social media protesting the closure of her office.
"I have thrown my clothes outside Prof. Mamdani's office. I am naked as I cry out for my office," she posted on her Facebook wall.
Lokodo however, maintained that the professor went overboard.
"Even if she was offended by anybody, she behaved indecently. I condemn it in the strongest words possible and I have directed police to arrest her. She must be brought to book," the minister told New Vision on Monday.
According to Lokodo, Dr. Nyanzi will be charged under the Anti-Pornography Act. If court finds her guilty of the offence as per Clause 3 of the Act, she will get a two-year jail sentence or a fine of 500 currency points or both.
Who is Stella Nyanzi?
Stella Nyanzi is a medical anthropologist with a PhD from the University of London based on ethnographic fieldwork of youth sexualities, sexual and reproductive health in The Gambia.
She has fifteen years of social science research experience in rural southwestern and urban central Uganda in the broad areas of heterosexual behaviour in the time of HIV/AIDS, adolescent sexual behaviour, female control of sexuality, transforming masculinities during the AIDS epidemic, the gender differentiation of reproductive health, alternative healing - specifically Balokole Pentecostal healing of HIV/AIDS and transforming perfomances of death, disposal and widowhood.
Her current research at MISR comprises ethnographic inquiry into the politicisation of homosexualities in contemporary Uganda - with a focus particularly on unpacking mainstream religious framing of and contestations about sexual citizenship. Dr. Nyanzi is also conducting research about the vulnerability and resilience of young (refugee and internally displaced) women in Uganda towards HIV/AIDS.