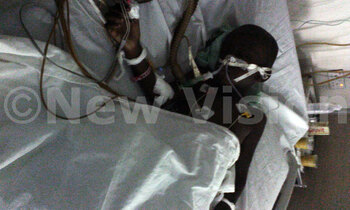 No parent is ever prepared to hear that their child has a life-threatening illness. It is devastating. For the last seven months, little Nshunti's parents; Benjamin Akababyeyi and Hellen Haguma are living this nightmare.

What started as a headache for Nshuti has now been diagnosed as a life threatening tumor sitting on the central nervous system. He has had two surgery operations at International Hospital Kampala since 9th October 2015. Even though the tumor was successfully removed, it is growing again.
The young couple has sold almost everything they owned in a bid to save little Nshunti's life. They can afford a smile here and a joke there. But there is a sense of helpless with which they speak. You almost feel they wish they could take the child's pain on his behalf. The family is now appealing for financial help to save their son, as Akababyeyi narrates.
GENESIS OF THE DISEASE
It was on Thursday 01/10/2015 when Isaiah's school teacher called us and told us that he (Isaiah) was vomiting incessantly. We rushed and took him to Bugolobi Middle East Medical Centre. He was treated of urinary infection.

He also had a headache which refused to go away even after treatment. The following day, on 02/10/2015, we took him to Lubaga Hospital. There, he was treated of an infection. But when we got home, the condition worsened again. So we again rushed to Lubaga hospital. Meanwhile, his headache intensified. By now, we were getting even more nervous. He was in a frightening condition.
Many tests were done including a meningitis test which turned positive. He was immediately given treatment that was expected to last 13 days. Meningitis treatment relieved him of pain temporarily.
KAMPALA HOSPITAL
On Wednesday 7th October 2015, a CT scan was requested and done at Kampala Hospital. Its results showed that he had a tumor in on the central nervous system and that it was in a delicate position. The doctors told us that he needed urgent surgery.

Doctors at Kampala Hospital agreed to have the child operated on as a matter of urgency that week on Saturday by one Dr. Muhumuza. After admission on Friday, the child who looked healthy after 30 minutes, started having breathing problems. Before we could digest this in, he got worse until he went into coma.
Kampala Hospital did not have a life saving machine to help him. In fact, the hospital at some point pronounced him dead. Luckily, after some hours of hopelessness, his heart started beat slowly.

Great efforts were made to have him transfer to a Hospital with Children Vent machines. Initially, although the Kampala Hospital doctor believed he is dead, our instinct told us he was still alive as parents. We believed he was sleeping. The doctor kept telling us that if at all he is alive, then chances of him to be alive were completely slim. But our instinct was right. He was not dead.
My son was in a delicate situation. It necessitated a fully equipped ambulance with a complete vent system. However, most ambulances that could have been which proved futile as most ambulances could not manage his situation.
At around 2:00 am; in what seemed like the eleventh hour; an International Hospital Kampala (IHK) ambulance arrived with their Senior Doctor, Director for Medical services and also senior Child Intensive pediatrician Dr. Michael Muhame.
Despite pleas from the Kampala Hospital doctor that the child is dead, Dr. Muhame insisted on transferring him to their ICU. He assured us (parents) to let him transfer him and that the child would be okay in God's name.
AT IHK INTENSIVE CARE UNIT
A number of doctors attended to him for several hours. At about 4:00am we were informed that he is stable and at 8:00 am, a Neuro-surgeon (Dr. Joel Kiryabwire) arrived to assess him and told us he was stable and that he is ready for the operation to release waters in his head and thereafter when he is well we continue to think and plan about the operation to remove the tumor.
Early morning Saturday 10/10/2015, the operation was successfully done.
On Wednesday 14/10/2015 he was discharged from ICU to the general ward.
However, his condition became critical again and was rushed to ICU. An assessment by the neurosurgeon showed that he cannot live with the tumour still in his head and until it's removed, he had to remain in ICU. The tumor was sitting on the central nerve system and it pressed too much pressure on the head.
Both doctors from Mulago and International Hospital Kampala finally agreed that the child had to remain in IHK in ICU if he was to have chances of survival.
The delicate location of the tumor prompted Dr. Kiryabwire the surgeon to mobilize another team of surgeons within the East African region to have an operation carried out. The size of the tumor was big. You know the average bottle of normal medicine syrup bottle?

Yes, that is how big it was. The operation took about seven hours. But it was successfully done. It was quite a unique and complex one as described by the surgeons. It was also described as challenging during the seven hours it was carried out. Ideally, this operation could have done in India. But given my boy's health and the emergence required, this had to be done to save the situation.
Because of risk of infections that one is bound to get by keeping in the hospital environment, the Neuro-Surgeons and other doctors requested the IHK management to let the child recover fully from home and visit the hospital weekly for his review.

We were allowed to move with some hospital equipment and tubes in him that were later removed as he showed fast recovery progress at home. We got discharged without clearing all the bills upon the doctor's request to management. Since then we report weekly to the Neuro-Surgeon at IHK for reviews.
THE TUMOR IS GROWING AGAIN!
However, recently, doctors discovered a 1 cm tumor in his head through an MRI Scan that they are closely monitoring with possibility to have a radiotherapy and chemotherapy done on him in either Nairobi or another country. Both Mulago and IHK teams of doctors are studying this unique case that could possibly be handled well in developed countries.
A 'tumor board' meeting in Mulago is expected to tell us the next step.
Doctors say it's a unique case which has attracted international specialists for further studies. In summary, my Isaiah has had two surgery operations at IHK since 9th October 2015 and has been admitted at IHK for over three Months with close to two months in the Intensive Care Unit (ICU).
However, Isaiah's treatment will cost him close to sh100 m. meanwhile, we also need to clear bills at IHK. The hospital demands over sh70m. My son has no health insurance and no other means of paying for his life saving treatment. We have so far raised sh30m from relatives and other contributions from people.
We humbly appeal to good Samaritans out there for kindness and generosity by contributing financially towards the Hospital bills to enable Isaiah continue with the required treatment and medical care.
We appeal to you our beloved president to support and save little Nshuti Isaiah life to get the diagnosis in order for him to have full recovery. If there are any good Samaritans out there, we kindly request for your generous and kind support.
Our contacts are: +256772882896, +256782759773, +256704735394. akababyeyi@yahoo.com

FactFile on Brain Tumours
When brain cells grow abnormally or out of control, a tumor (a mass of cells) can form. If the tumor puts pressure on certain areas of the brain, it can affect how the body functions.
When discovered early enough, brain tumors are usually treatable. Many that are slow-growing are cured with surgery alone. Other types that are faster-growing might need additional treatment with radiation therapy or chemotherapy, or both.
The cause of brain tumors is not clear but researchers think there may be congenital and environmental causes.
Signs or symptoms vary depending on a child's age and the location of the tumor, but may include: vomiting, seizures, weakness of the face, trunk, arms, or legs; slurred speech, difficulty standing or walking, poor coordination, headache, in babies, a rapidly enlarging head
Brain tumors can be difficult to diagnose. If you ever have concerns about symptoms your child is having, talk with your child's doctor right away.