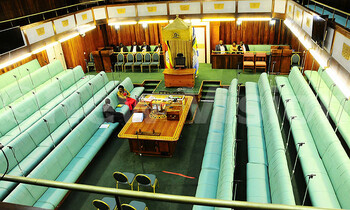 Lawmakers across a usually fractious political divide on Thursday evening passed the Income Tax Amendment Bill, 2016 and introduced a section that removes their allowances from the tax bracket.
The amendment proposed by Rubanda County MP, Henry Musasizi, and supported by less than 40 MPs across the political divide, bar Sarah Opendi, effectively nips in the bud current attempt to impose a tax component on MPs' allowances.
The development comes barely two months after Justice Henry Adonyo of the Commercial Court ordered that MPs' allowances, including mileage and constituency allowances, sitting allowances for committee sessions, town running allowances, basic pay and car purchase allowances, among others to be taxed.
Although the average lawmaker earns sh20m monthly, less than sh4m (salary) of this attracts taxes like pay as you earn.
This means that a huge chunk of MPs emolument is not taxed - an issue that has proved emotive since the recent court judgment.
"The allowances MPs receive are meant to facilitate them to do their work. That money is not our money. We buy fuel to travel to our constituencies for example. It would be bizarre to impose a tax on it," Musasizi told New Vision.
With parliament earlier this week appealing against Justice Adonyo's judgment, the decision to amend the law under contestation is set to raise eye brows.
The constitution bars retrospective legislation and parliament is not at liberty to legislate in order to defeat a court process.
This might result into protracted legal battles as some members of the civil society challenge the legality of parliament's decision to amend the income tax Act before court disposes off the appeal.