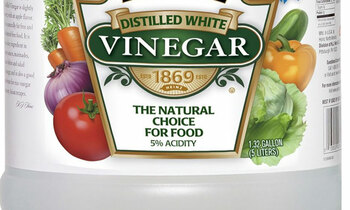 Vinegar and lemon are mainly used in the cooking process of various foods as spices. However the two products can be used as cleaning agents in a home.

Winnie Musana, the house keeping manager at Arcadia Suite Hotel, located along Kiira road in Kamwokya says that vinegar is a 'miracle cleaner' which can clean almost anything ranging from laundry to the kitchen items.

She says vinegar is cheap and non-poisonous to humans because it is a weak form of acetic acid that forms through fermentation of sugars or starches.

"Vinegar is completely edible, and cannot harm your stomach," she said.

It does a lot of cleaning around the house including removing stickers that have been used to decorate furniture and other surfaces. When applied on a sticker and left for at least 10 minutes, the sticker gets off completely.

It is also used to remove bad odor when put in a bowl and placed in the room overnight.

If you happen to have spills on the carpet, use a sponge or cloth to soak up as much
liquid as possible. Then spray a mixture of half vinegar and half water for about two minutes and blot with a towel or sponge to get better results.

To clean windows, spray them with a one litre mixture of half vinegar and half water and wipe clean with either newspapers or cloth.

In the Bathroom

To remove corrosion or chemical build-up from showerheads, soak in
vinegar overnight.

Remove stains from the toilet bowl by spraying with vinegar to remove soap build-up from faucets, clean with a mixture of one part salt to four parts vinegar.


Spray shower walls and shower curtain with vinegar to prevent mildew.

In the Kitchen

Vinegar is an excellent cleaner for all kitchen surfaces - counters, refrigerators, stovetops.

To clean your microwave oven, put a microwave-safe bowl of 1/2 cup
vinegar and 1 cup water in the oven, and cook long enough to boil.

In addition, to removing any lingering odors, this will loosen any
baked-on food from the microwave's walls.
To remove coffee or tea stains from china, clean with a mixture of vinegar and salt.

To keep ants away, spray vinegar along doorways, windowsills, countertops and anywhere ants are likely to appear.

If you find a path that ants use repeatedly, clean it with vinegar.

Boil water with several spoons of vinegar to remove the smell of burnt food from your kitchen.

In the Laundry

To keep colors from running in the wash, soak in vinegar before washing.

To decrease lint on clothing, add 1/2 cup vinegar to the rinse cycle.

Many persistent stains can be removed with vinegar: coffee, chocolate, ketchup, jam, cola, wine. Gently rub stain with vinega, then wash.

To make your "brights brighter", add 1/2 cup vinegar to the rinse cycle.

For fresher cloth diapers, add one cup distilled vinegar to the rinse cycle. This will break down uric acid and remove both lingering stains and scents.


To remove scorch marks from an iron, rub with a mixture of vinegar and salt.

To remove soap residue from the washing machine, run an empty (no laundry) cycle with one cup vinegar added.


To remove the smell of smoke from clothing, add a cup of vinegar to a tub of hot water. Let clothing hang in the same room for several hours.