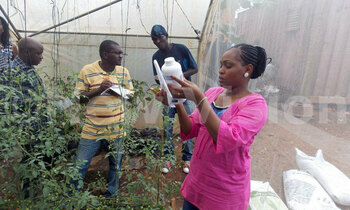 Sam Muwanga did not know where the thousands of white flies swarming his greenhouse came from and they did not spare his crops.
White flies are pests that attack most vegetables including cabbages and pepper.
"They soon started eating away the crops and destroying them," Muwanga recalls. The tomato leaves became decoloured, while the tomatoes rotted.
Tomatoes are money makers, especially if everything goes right. However, there are many challenges and factors that can affect the growth of tomatoes. One such example is white flies. Experts advise that for a farmer to be able to identify these challenges on time, they should treat their crops like babies.
"Right from the time a crop is planted in a greenhouse, treat it and communicate with it like you would with a baby," says Emma Wanjiru, head of capacity building, Amiran, Kenya.
She says you can only have this communication by engaging with your crops.
"You can only find out what is afflicting your greenhouse crops if you communicate with the crops," explained Wanjiru.
She and her colleagues were speaking to farmers engaged in greenhouse farming in Uganda, during a practical training at Bugolobi last Saturday.
"You can communicate with your greenhouse crops by walking through them," she said.
She pointed out that when you walk through them, it is easy to see the white flies before they become more destructive.
Wanjiru explained that these flies are mainly caused by congestion inside a greenhouse and allowing weeds to grow less than five steps away from the greenhouse. A weed is any crop that you did not intend to plant. It is from these weeds that the white flies start growing and later find their way into the greenhouse.
Fighting white flies
Wanjiru advises that there are several chemicals that are used against the flies. These include kohinor and this can be applied through the water system of the greenhouse. Wanjiru says that you apply 80ml of kohinor in 500 litres of water. However, if you are applying it through spraying, you use 10ml in 20 litres of water. "However, if you are applying to tomatoes that are ready for harvesting, then it should be done seven to 14 days before harvesting," she advises.
Amiran is a company that deals in greenhouses in Kenya. Balton Uganda Ltd is a subsidiary of Amiran Kenya.
Look out for more pest control measures in a greenhouse in Harvest Money On April 19th.