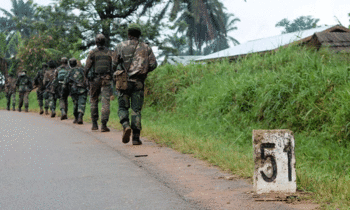 New York University said Saturday that it was "deeply concerned" over the expulsion of one of its researchers from the Democratic Republic of Congo, linking the move to his work on a series of massacres in the country.
According to a diplomatic source, Jason Stearns, director of the Congo Research Group at NYU's Centre on International Cooperation, was sent by plane late Thursday to Europe, from where he was expected to head to the United States.
A senior Congolese official told AFP Stearns had "deceived the immigration service" over his place of residence in Kinshasa, adding that the researcher was invited to the DRC by an NGO that was not properly registered in the country.
In a statement sent to AFP in Kinshasa, the CIC said: "The official reason for the expulsion by the Congolese authorities was the 'undesirability' of Mr Stearns... They also referred to the recent report by CRG on the massacres around Beni."
His research group published a report in March on a series of massacres of civilians around the town of Beni in North Kivu province, northeastern DR Congo, since October 2014, claiming that soldiers from the regular army participated in the killings.
The report questioned the official and UN mission version that the massacres were committed by a Ugandan Muslim rebel force installed in the east of the country since 1995, the ADF.
It noted the complexity of the violence perpetrated in the region, which has been torn by conflict for more than 20 years.
The report recommended that the Congolese authorities and UN mission resume investigations into the killings, noting that "several" groups distinct from the ADF "appear to be involved in the massacres".
It said members of the DRC army, former rebels from the RCD-K/ML group -- who held the area during the second Congo war (1998-2003) -- and local militias were all involved in the mass killings.
The government rejected the claims and said the ADF was "definitely" responsible for the massacres.
The CIC said the alleged immigration irregularities Stearns was accused of were "minor procedural matters, which we are taking steps to address".
Stearns, who spent several years in the DRC, namely during the 1998-2003 war, is also the author of a book on the conflict, "Dancing in the Glory of Monsters".