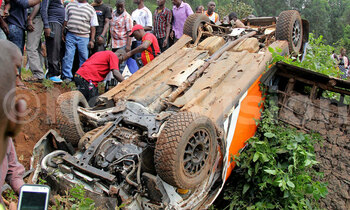 KABALE - The crew of Adam Rauf and Aaron Nsamba in a powerful Mitsubishi EvoX were the first casualty of the Gorilla in the Mist Rally in Kabale when they rolled and tipped at a corner.

Both driver and co-driver survived no injuries.

The crew were chasing Ronald Ssebuguzi, Jas Mangat, Christakis Fitidis, Duncan Mubiru,Deshi Kananura all in Evox and Arthur Blick Jr in Subaru N10 Prodrive.

"We are okay and we didn't get hurt," Nsamba told New Vision, before Rauf shared the same sentiments after the crash.
They were in the first section of the rally in Rutooma village approaching Bunyonyi Flying Finish.

The event is going on with drivers battling it out in the first sections which feature the Lake Bunyonyi section.

Meanwhile, Ronald Ssebuguzi also encountered some mishap along the way.

Inthe first section at the Flying finish, he suffered a tyre problem, and his machine heated up, with smoke billowing from it. But the fire was quickly put off.
Adam Rauf takes a breather after climbing out of the ill-fated rally car
Rauf and Nsamba (right) said they were "okay" after the accident
PHEW! Nsamba had to cool off