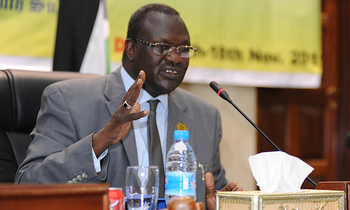 JUBA -Csaid Thursday he would return to the country's capital Juba on April 18 to form a unity government with President Salva Kiir in accordance with an August 2015 peace deal.

"I am therefore confirming the date of my arrival to be 18th April 2016 and thereafter form with President Kiir the Transitional Government of National Unity and hold the Transitional National Council of Ministers," Machar said in a letter to the head of the committee monitoring the deal, Botswana's former president Festus Mogae.

Machar's return to Juba is a key step for the formation of a unity government agreed under the peace accord to end a brutal war which has killed tens of thousands of people over nearly two and a half years.

Machar, who was Kiir's deputy before the war, had been living in exile in Kenya and Ethiopia, but was re-appointed vice president in February.

Under the peace deal signed in August, Machar will join Kiir in a new 30-month transitional government leading to elections.

The UN mission in South Sudan said Wednesday that around 800 soldiers and police from the rebel side had arrived in Juba out of a total 1,370 agreed under the peace deal.

UN aid chief Stephen O'Brien told the UN Security Council last week that fighting was spreading despite the peace deal, with new outbreaks around Western Bahr el Ghazal, Western Equatoria, Jonglei and Malakal.

More than 150,000 people have fled their homes in the new violence that has already displaced more than two million people over the course of the war.

After winning independence from Sudan in 2011, South Sudan descended into war two years later, setting off a cycle of retaliatory killings that have split the poverty-stricken country along ethnic lines.