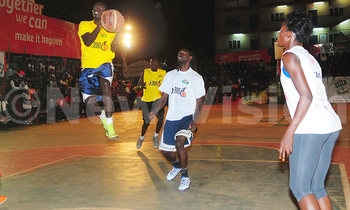 Friday Night Lights
Quarterfinal results
Koma 50 Wazee 40
Otim 61 Enabu 51
Kami 47 Ikong 36
Blick 52 Amoding 47

Friday Night Lights (FNL) will have a first time champion and this excludes all the four teams that were part of Group A.

The quarterfinals of FNL Season Six Friday at the YMCA saw every Group A team eliminated, including champions Team Amoding and Team Enabu, who had won all their previous three matches and were heavy favourites against Group B's basement outfit Team Otim.
Brian Ssentogo trying to stop Kami Kabenga
Amoding lost to Blick 52-47, with E Kazungu, Sudi Ulanga and Martha Soigi nailing 13, 12 and 11 points respectively for the victors. Amoding were led by skipper Maureen Amoding but her 11 points were not enough to save the day.

Enabu had gone into the knockouts with the only unbeaten record but Joze Bazz and Ceasar Kizito dropped 19 and 12 points respectively as Otim tore up the form book on the way to 61-51 victory. Skipper Ivan Enabu and Jamila Nansikombi had 13 and 11 points respectively but their efforts could not prevent their team's unexpected exit.

Four-time champions Team Ikong lost to Team Kami 47-36, ensuring they ended Season Six without a victory. Skipper Kami Kabange gunned a game-high 29 for the victors while his counterpart Joseph Ikong scored a team-high 15.
FNL fans at Friday's games
Predictably, Team Koma eliminated Team Wazee, thanks to 50-40 decision. Landry Ndikumuna snatched a game-high 22 for Koma while Emmanuel Demuna and Lynn Nalunkuma made seven points apiece.

Next Friday is the climax of Season Six, with both the semis and final to take place the same night. Not that fans will protest against such an action-packed finale.