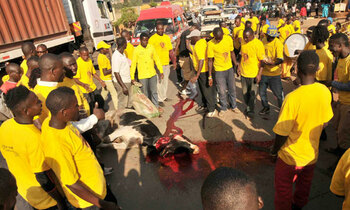 The Minister of State for Water Ronald Kibuule has joined Mukono youths to celebrate the Supreme Court verdict dismissing former Prime Minister, Amama Mbabazi's bid to have President Museveni's election in the just-concluded election nullified.

The Chief Justice Bart Katureebe dismissed Mbabazi's petition on Thursday.

The youth donning Museveni's campaign t-shirts marched from Minister Kibuule's home at Mbalala through Namawojjolo roast chicken market and Mukono town, and converged at Satellite Beach where they got into dancing and drinking.

Kibuule also provided a bull which was slaughtered in the middle of Kampala-Jinja highway, resulting into a temporary congestion of traffic.
They later roasted and feasted on it in a trans-night dance.

In an interview, Kibuule said the court verdict has proved to Ugandans that President Museveni has all along been wrongly blamed for manipulating votes, and added that he is a law abiding citizen who did not even attempt to interfere in the court process.

"Museveni is a rare calibre of a leader who declined to flout any legal provision and exhibited his respect for the rule of law; even his petitioner would not have respected the law had he been the one in Museveni's boots", Kibuule said.

Turning to the youths, he advised them to focus their attention and strength to hard work, as a show of support to the president.

The jubilating youths thanked Museveni for being behind a law abiding government that has shown Ugandans that nobody is above the law.


The State Minister for Water Ronald Kibuule with the NRM youth posing with the bull which they later roasted at Satellite beach in Mukono town.
NRM youth cerebrating Museveni election petition victory in the middle of Kampala-Jinja high-way where they slaughtered a bull given to them by the State Minister for Water Ronald Kibuule.
NRM youth sharing beers at Mukono Satellite beach as they cerebrated Museveni's election petition victory.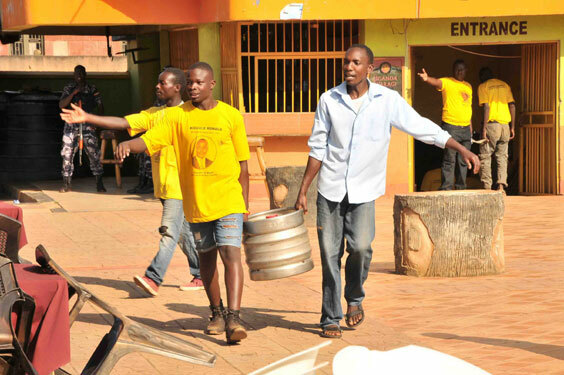 NRM youth carrying beers which they enjoyed in cerebrations.