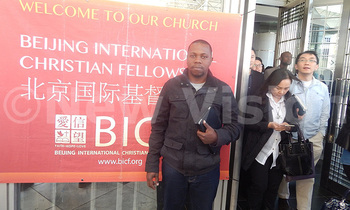 On the streets of Beijing, China's capital, there are no effigies or banners screaming 'Happy Easter!' Traffic is slow, but it is because most residents take a work break on weekends.
It is Easter Sunday. Are there churches in Beijing? Yes. Are there Christians who commune in this burstling city of over 20 million residents?
China is a secular state, but everyone is allowed to practice their religious beliefs. However, public announcements and advertisement of one's religion or beliefs are prohibited.
I come across one of the churches, Beijing International Christian Fellowship, located along Liangmaxiao Road in Chaoyang District.
Photos by Taddeo Bwambale
Due to local government regulations, foreigners attending the Fellowship are required to show valid identification documents at the entrance that has a simple banner placed there.
Inside the imposing building, Christians of all races and creed are drawn into a frenzy of praise and worship.
A play, a musical and performance poetry themed on the resurrection of Jesus Christ, the basis of Easter celebration, form part of the colourful Easter sermon.
Traffic in the city
Started in 1980 with less than 10 members, the inter-denominational church has grown to more than 3000 members today. Most of the congregants are expatriats, students and diplomats.
The church is also a meeting point for Christian communities. Ikenna Emewu, a Nigerian journalist living in Beijing, describes finding a church in Beijing as a great discovery.
"It is a wonderful experience because it keeps my spirit alive. There is a large congregation similar to that in my home country," says Ikenna, who is in China on an exchange programme.
Freedom of worship
Confuscianism, Taoism and Buddhism are among the dominant faiths in China. lslam and Catholicism have also taken root with about 15 million and 30 million followers, respectively.
Freedom of belief and normal religious activities are protected by the constitution of the People's Republic of China. Easter Monday will be a normal working day. At least, Sunday was worth it.