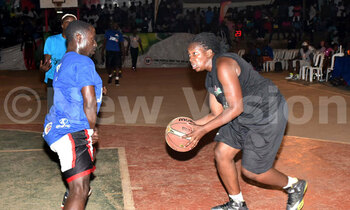 By Julius Senyimba
FNL results
Ikong 50 Wazee 51
Amoding 57 Enabu 58
Blick 55 Otim 45
Koma 51 Kami 56
When last season closed doors with Team Amoding unbeaten and being crowned champions, it was a matter of time when their run will come to an end.
The team led by AL Challenge guard, Maureen Amoding was the team to beat in the ongoing sixth edition of the Castle Lite FNL and yesterday night at YMCA court, Wandegeya, revelers witnessed a nail-biting encounter which went into overtime as they fell short by a point to Team Enabu, 57-58.

Skipper Amoding led her side with a team high 14points but was not enough as Team Enabu and player of the night, Jamillah Zama's game high of 19points left them in disbelief losing to an Enabu side which was lacking the pace of City Oilers' Jimmy Enabu.
As the norm now, Warriors' Ivan Enabu was a joy to watch and the crowd cheered all his drives in and guiles.


The other shocker of the night was old-timer side, Team Wazee registering their first win this season by defeating three time champions Ikong 51-50. Elsewhere, Team Kami fought hard to see off Team Koma with a 5point margin as Team Blick eased past Team Otim which is yet to win any single game in their debut season.
On the entertainment side of it, singer Mun G gave the crowd his best tempting young lads to join him on the court for a dancing contest something the crowd loved to bits. Lastly, many fans went back home winners from the various trivia.