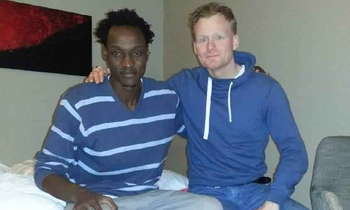 Family, friends and well-wishers on Good Friday prayed for former Uganda Cranes goal keeper, Abel Dhaira, who is battling cancer and now in critical condition.
The prayers that started at about 3:00pm were held at his father's residence in Walukuba, Jinja district.
They were attended by several dignitaries who included FUFA vice president in charge administration, Darius Mugoye, who represented FUFA president Moses Magogo who travelled with the Uganda Cranes team for the game against Burkina faso.
The Jinja community also collected some money that will be used to aid Dhaira's treatment in hospital in Iceland where he is currently.
Among those who led prayers was Pastor Moses Ssemambo who said "We are here praying for Dhaira so that he gets healed and want him to become Ambassador of Cancer victims."
Ssemambo cited an example of Nigeria legend Nwankwo Kanu who had a heart problem but was treated and is now an Ambassador of Cardiac victims.
"Dhaira committed his life to God; he has no girlfriend, does not club and does not go for Karaokes. I request you to continue giving support to the family and to also start the journey of establishing the Abel Dhaira Cancer Foundation in order to help out many others with cancer," Ssembambo said.
Mugoye said that FUFA is ready to support the Abel Dhaira campaign adding that FUFA President, Magogo pledged $1000 (3.5m) from FUFA towards the drive.
"FUFA values Dhaira's family basing on its football track record of the father, Bright Dhaira and his son, Abel Dhaira and we also value Walukuba as a football hub. We are going to print t-shirts with a message about what Dhaira is going through so that they are donned by our national team players on Tuesday before playing their game against Burkina Faso,"
Mugoye revealed that FUFA is planning to build a soccer academy in Walukuba since Walukuba is a football hub and has always been feeding the Uganda Cranes with players.
Present during prayers was Jinja Municipal Council Hippos team chairperson Fizal Mohammed who pledged sh1 million, FUFA executive committee member for Eastern region Sam Lwere and Jinja East Member of Parliament Paul Mwiru among others.
Abel Dhaira was born September 9, 1987 and he is a son of former Uganda Cranes goal keeper Bright Dhaira who is currently an assistant coach in BUL Football Club. Dhaira is currently signed to IBV Vestmannaeyjar in Iceland.
The lanky custodian last played for IBV in October 2015 when he started complaining of stomach ailments.
He later requested the club for sick leave before returning home. The keeper's health did not improve prompting his family to admit him at Nsambya Hospital in January. He was later flown back to Iceland where his club offered to help him.
Doctors in Iceland confirmed that he was diagnosed with cancer and immediately commenced treatment.
During the prayers in Dhaira's elder sister who is in Iceland by his bedside updated the gathering on his current situation via phone.
"Dhaira has not yet woken up from sleep since Tuesday; he cannot talk, walk, but continue praying for us as much as you can" she said.
He has previously featured for Express FC, URA FC, Simba in Tanzania, and two stints at IBV.