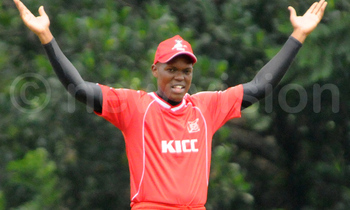 UCA National 50-over League
Division 1
Tornado Bee 157 Nile 86 (Tornado Bee win by 71 runs)
Tornado 218 Wanderers 106 (Tornado win by 112 runs)
Patidar 105 KICC 46 (Patidar win by 59 runs)
Division 2
Damani 268 Premier 133 (Damani win by 135 runs)
SKLPS 109 Mwiri 72 (SKLPS win by 37 runs)
Division 3
Pirates 205 Avengers 175 (Pirates win by 30 runs)
KICC collapsed to a humbling 59-run defeat at Entebbe while Tornado Bee put aside their continued batting woes to move level with the Challengers atop the standings of the UCA National 50-over League.
KICC were bowled out for 46 runs in 15.5 overs as they chased 106 for victory against a Patidar side they were expected to overwhelm. Patidar made the most of KICC's batting off-day, with Hardick Patel and Hashmuk Patel claiming 4/8 in four overs and 4/13 in four overs respectively.
Hiral Patel and Mitesh Patel scored 31 and 28 runs respectively for Patidar, who seemed in trouble when they were all out for 105 in 27.4 overs. But KICC would make a mightier mess of their innings, with Arthur Ziraba's 16 runs the only double-figure return.
The defeat left KICC in third place, six points behind the top two of Challengers and Tornado Bee, who thrashed Nile by 71 runs at Lugogo.
The three-time reigning champions had been bowled out in all their five matches heading into the meeting with Nile and the trend would continue as Jeremy KibuukaMusoke's men scored 157/10 in 39.3 overs.
Nile's Kenneth Waiswa was Tornado Bee's chief tormentor, picking 6/32 in 10 overs while Zephaniah Arinaitwe claimed 2/24 in 6.3 overs. Deus Muhumuza's team-best 25 runs and Nicholas Kebba's 24 paced Tornado Bee but could only highlight the continued paucity of runs within the ranks.
Still, Tornado Bee's bowling and fielding have plugged the team's batting gaps and the same happened as Nile were bowled out for 86 runs 20 overs.
Waiswa scored a match-best 56 off 33 runs for Nile but Charles Waiswa (3/31) and John Mpande (3/29) would see Tornado Bee home.