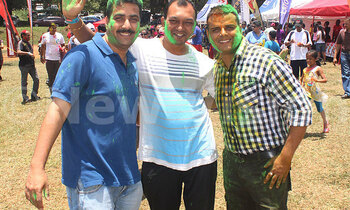 Thousands of Indians living in Uganda thronged Arya Samaj Ground Kisementi in Kampala to celebrate Holi, a spring festival, also known as the festival of colours.

Now celebrated by Indians across the globe, Holi is one of India's most popular festivals, signifying the beginning of spring.

In Kampala, the event was organised by Rajasthan Association in conjunction with the Indian Association Uganda on Sunday.
Usually, people throw coloured powder and water on each other in celebration - and it was no different at Arya Samaj.

By 11am local time, friends and family had gathered to celebrate a day also called the festival of sharing love.

Hues of blue, yellow, green, violets - and much more - were tossed around at people as was the love and warmth that was so ubiquitous.

And that wasn't all. To colour the event even more, popular Indian artist Shivangi Sharma rocked the crowd with Indian music as Dj Apoorv, a famous DJ in India, was in the mix.