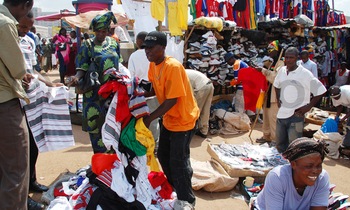 There is no plan by government to halt importation of second hand clothes, an official in the Finance ministry has said.
Finance ministry spokesperson, Jim Mugunga, told New Vision that instead government is moving to impose 'a small levy' on second hand fabric and footwear also known locally as mivumba in a bid to raise revenue next financial year (starting July).
Last week, Finance minister, Matia Kasaija was quoted as having proposed to increase the rate of environmental levy imposed on mivumba from 15% to 20%.
This was widely seen as part of raft of measures to roll out the East African Industrialisation Policy and strategy (EAIPS) - a programme intended to discourage used textiles in the country.
The programme was mooted on March 2 at the 17th Ordinary EAC Heads of State Summit in Tanzania. Member states - Kenya, Uganda, Rwanda, Burundi and Tanzania — discussed the importance of promoting local textile and leather industries by stopping the importation of used clothes, shoes, among other leather items.
However, Mugunga denied the taxes announced by government last week are part of EAIPS.
"In last year's budget, there was an increase of taxes on used cars, so this year we are proposing something similar on second hand clothes. It has nothing to do with the ban. The increase in taxes is to ensure that importers of second pay their share of tax," Mugunga said.
He added that the taxes are in a bid to increase taxes, which are lower compared to neighboring countries.
Mugunga added that used textile and footwear is a lucrative business but dealers were not paying enough of their share of taxes.
Uganda brings in at least 1,500 tons of secondhand clothing annually from the US, U.K and other countries.
By 2014 the imports into the East African community stood at $300m (about one trillion) up from $100m (about sh300b) in 2001.
Julius Kapwepwe Mishambi, a director at Uganda Debt Network (UDN), said a total ban on used textiles and footwear would be catastrophic because many households in the country are poor and cannot afford brand new textiles.