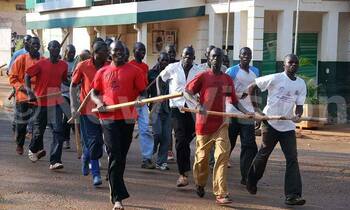 Isaac Nuwagaba

The Police in Kabale is investigating circumstances surrounding the death of John Byomuhangi, a crime preventer at Kasiru village, Butanda parish, Butanda Sub County in Kabale district.

Elly Maate, the Kigezi region police spokesperson confirmed to New Vision Monday morning that they are hunting for a blood brother to the deceased, Varant Ndyababasa, suspected to have chopped him on the head with an axe.

"Ndyababasa is on the hunt because he used an axe to assault his brother after developing a quarrel over family property which they wanted shared," Maate says.

Dr. Gilbert Mateeka, the Rugarama hospital medical superintendent told this reporter that the patient was shortly referred to Mbarara where he died from because they lacked capacity to work on him.
"He sustained head injuries which we suspect could have caused him internal bleeding and we decided to refer him to Mbarara for a head scan,"

Locals attack suspect's family

In retaliation irate residents burnt four houses and propert worth millions of shillings in revenge.

"They went ahead to slash a banana plantation belonging to the father of the suspect, one Girigori Bitarabeho," Maate said Monday morning.

The Police is still hunting for the brother but he shall be produced to court after the investigations are complete, he revealed.