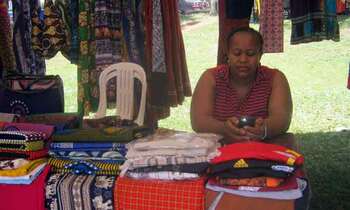 Jerome Atugonza

Some business women around Kampala will keep fond memories for this year's Women's Day celebrations, thanks to Kampala City Council Authority (KCCA) and a Makindye based crafts association called Tukolewamu craft development association.

Craft work made by nearly 450 women members of this group were on show in an art and crafts exhibition held at the Uganda railway station grounds in the run up to the Women's day celebrations.
Among other things, our group came to showcase crafts made by our members as a testament to the talent and creative abilities of women in our society. Women from different divisions brought their products to exhibit with intent to create awareness and reach out to more potential customers." George Kivumbi, the chairman of Tukolewamu craft development association, said.

The exhibition lasted four days and showcased a variety of items.
Variety on display

It was evident enough that the traders were from all walks of life and all the categories were represented. In the background, soft music played, evoking peace and calm as the fair went on.
There were a lot of African themed artifacts for buyers to choose from. African dresses (Bitenges) decorated with various colors, necklaces entwined with beads both in large and small sizes, handmade wall clocks designed in the shape of the African continent, ear rings, men's shirts made from cotton portraying African cultural motifs, hands bags festooned with biodegradable materials among many others.

Street loiterers and window-shoppers came in huge numbers to get a glimpse of the beautiful items on display in the green yard.
The few who could afford were able to buy some items while those who were not in position promised to come the next day. Others took the salewomen contacts for future purchases.

But it was not just beautiful crafts on display; there also were functional items like liquid soap and black books, energy saving stoves and so many other items.

The idea of the open day crafts market exhibition was initiated by KCCA's gender department. It has been running for six years.

KCCA through its Community Driven Development (CDD) programme sponsors groups in the different five divisions of Kampala. A minimum of sh 5,000,000 is distributed to kick start their business.

An even bigger exhibition has been scheduled to take place from March 19th - 26th at Centenary Park which will showcase work by women from East Africa.

Changing lives

According to Kivumbi, this exhibition opens opportunities for the women who showcase their work here by bringing in new clients and customers. This includes tourists from other countries.
The women participants too are happy about the opportunity availed to them through this exhibition.

"I love bringing my work to such open days because we are able to get more customers than those that come to our shops Enid Talemwa a craft business woman stationed at Buganda road said.

Through associations like Tukolole wamu many women have been equipped with artistic skills that have enabled them to earn a living.

It was a lovely showcase and a great event that was crowned by cultural dances by Twekembe cultural dance troupe.