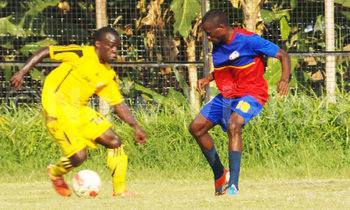 By Jacky Achan
URA FC Friday condemned Maroons to yet another Premier League defeat bagging three goals on the evening.
Robert Sentongo got the first goal of the game as early as the 6th minute to ensure the first half ended 1-0 in favour of the hosts.
Nicholas Kagaba netted the second goal for the tax collectors in the 59th minute of the game at Mehta grounds.
Maroons chance to pull back a goal came when Peter Otai seemed to have been fouled in the box but the referee brushed aside calls for a penalty.
Maroons old boy Ronald Kigongo was to add a third goal for host URA FC in the 90th minute to wrap up a massive win for the Lugazi based side.
URA FC coach, Kefa Kisaala after the game said it was a great win for his side.
"Winning is good. Winning without conceding is even of a better advantage" he said at the end of the game.
He said his side started slow but picked momentum as the game progressed which resulted into the win though he says URA should have scored more goals.
Maroons head coach, Paddy Kintu on the other hand says his side had a good game but admits a few errors led to the three goals conceded.
"We still have chances to stay in the league but I will have to adopt a more careful approach for our next games," he said
Maroons will on Tuesday host Sports Club Victoria University while URA will host Lweza FC.
Coach Kisaala admits the Lweza game for his side will be a tough one since their opponent has managed three back to back wins and they will be away from home.
In the other games played Tuesday Sadolin and army side Simba played to a goalless draw while Soana managed a 1-0 win over JMC Hippos.