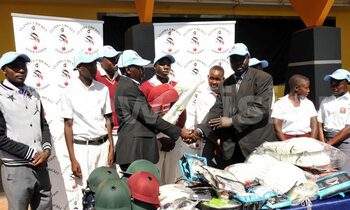 National Council of Sports assistant general secretary Timothy Katende has asked other sports disciplines to borrow a leaf from Uganda cricket Association by creating partnerships that will help them develop their respective sports and build confidence amongst prospective partners.

Katende was speaking at a ceremony were 43 secondary schools across the country received cricket equipment donated to the association by Bankstown Cricket Club in Sydney, Australia,

The consignment that had helmets, bats, balls, guards and uniforms was handed over Thursday at National Council of Sports headquarters.
"In the past, most federations used to get such equipment and instead of reaching their final destination, they would end up in shops or at their homes.
Uganda Cricket is reminding you that the reason why they have so much talent coming up is utilising an opportunity of utilising the equipment as they have received and also going out to create partnerships and keeping them," said Katende.

The consignment is the eighth that has been received from Australia after a good partnership.
"It started like we could help but when they came here and saw how we utilise the equipment and impact, they had a drive to even give us more.
The company now collects all the used equipment which is still good for use from clubs and schools and ships them to Uganda.
Our role as NCS is to pay taxes and distribute them to the different beneficiaries to help in the growth of the game," said Justin Ligyalingi, the chief executive of Uganda Cricket Association.
The Association has one of the most vibrant cricket development programmes which starts with the primary school cricket and through to the secondary school before them make it to the national cricket competitions.

The team has also participated well in the regional tournaments with Uganda winning a number of regional age group tourneys.