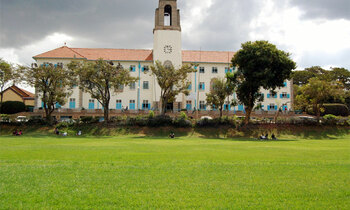 By Alfred Byenkya
Makerere University students are voting for their new guild president on Friday with over 15,000 students ready to cast their votes.

According to the institutions guild constitution, election of the guild president, GRC elections are supposed to take place within the first 50 days at the start of the second semester of every academic year.

The 2016 guild race attracted a total of 12 candidates from different political and education backgrounds.

The candidates are Mandela Nkunda (NRM), Nsubuga Umar (Independent), Biddemu Bazil Mwota (Independent), Kasozi Ismail (Independent), Nassala Brian(Independent), Kalyango Shafik,Nviiri Sos peter (Independent), Dennis Kiyingi(Independent), Luyinda Fred (Go Forward), Dick Rogers Ainomugisha (FDC), Ssemboga Roy(UYD) and Ssenyonga Simon (Independent)

The candidates started campaigning two weeks ago. They held rallies at the different halls of residence and held a series of debates.

The University's electoral commission spokesperson, Ndamwesigwa Ian told The New vision that elections will begin at 7:00am and end at 5:00pm.

"Elections will be conducted at the different schools or colleges. The students who will be casting their votes should come with their University identity cards or bio data forms", he added.

Ndamwesigwa further noted that the voting system will not change as students will cast their votes using the secret ballot method.
Candidate manifestos.
The candidates promised students that they will be working on issues that are affecting service delivery at the Institution.


They highlighted issues like sexual harassment on female students, insecurity, health, bad infrastructure and the 100% tuition fees policy as some of the key issues they promise to work on if they won their way to the guild office.

The candidates often discussed these issues on Urban TV. The host Simon Kasumba often tasked them to explain to the public how they would handle the above mentioned issues.

They said strikes and demonstrations are inevitable because the issues they are taking about have not been solved.
Candidates speak out on the polls.
Some candidates say have formed groups to fight vote rigging.
Roy Ssemboga Roy, one of the candidates said that his brigade ROY FOR GUILD is a peaceful group that is aimed at making sure that there's no vote rigging.

"I mobilized boys from Nkrumah hall to make sure that they campaign on my behalf. The students wearing branded T-shirts with the name ROY FOR GUILD are my", he said

However Nviiri Sos Peter, another guild candidate says he doesn't need a group to protect votes. He instead accuses his rivals of using the groups to intimidate supporters to who do not support their candidates.

"I don't need a militia group to protect me. I want to be free and just sell my manifesto because it's one of the best," he added.

Luyinda Fred said he is 100% sure that he is the right man to succeed Bala David Mwiruka as the next guild boss. "Am winning the race with a big margin," he assured.

Electoral Commission speaks out

Ndamwesigwa said that he is aware that some students have groups that are working as agents or militia groups. "We aware of these groups. They have been working with candidates to maintain law and order during our rallies," he said.

He however defends the establishment of the Electoral Commission Guard brigade (ECGB) saying it was established legally.

"They are a group of around 20 students. We gave them black T-shirts for identity. They are working on behalf of the commission to keep law and order during the polls." he added.