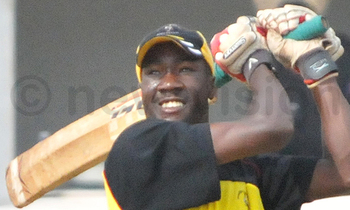 UCA National 50 Over League
Division 1
Tornado Bee v Wanderers (Lugogo)
Nile v KICC (Kyambogo)
Challengers v Tornado (Entebbe)
SKLPS v Damani (Budo)
Premier v Jinja (Jinja)
While unbeaten Nile remain cautious about their expectations for the season, KICC have recently erased any doubts about their title ambitions.
The Sudhir Ruparelia-backed side are completely invested in chasing the 2016 UCA Men's National Cricket League championship, and as they illustrated when they faced and defeated the Challengers last month, just a few phone calls is all takes for their ranks to go from beatable to menacing.
KICC beefed up their squad for the Challengers game with four Kenyan imports, with obvious benefits, but skipper Hanumant Katkar says his team will not need any foreign boost for their Sunday clash with Nile at Kyambogo.
"Our (locally-based) team is sufficient enough to beat Nile," Hanumant told New Vision Sport in an interview.
"I know that Nile haven't lost yet but they are losing this game. That's for sure. We have very good bowlers in (Irfan) Afridi and Frank (Nsubuga) and because they are so good we don't have to bat well to win."
Nile (who are 2-0) are similarly counting on their bowling unit and their pressure-free approach to every game. For the same reason, they are not bothered about what type of KICC ( who are 2-1) shows up for the match.
"We obviously are not changing our approach to the game, regardless of who they might have," said Nile veteran Martin Ondeko.
"We are going to approach this game the same way we always approach our games. We go into our matches without any pressure and that has helped us a lot."