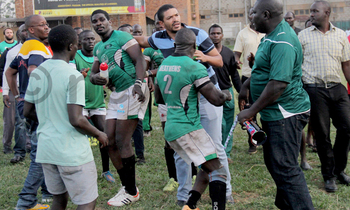 Friday
Black Pirates v Rhinos (Legends)
Saturday
Warriors v Buffaloes (Legends, 2:30pm)
Kobs v Gulu (Legends, 4:30pm)
Rams v Mongers (Makerere, 2:30pm)
Impis v Heathens(Makerere, 4:30pm)
Womens League
Walukuba v Thunderbirds (Jinja, 4:30pm)
The topsides teams will be looking to move up the table while others will be out to stave off relegation as the second round of the Nile Special Premier Rugby League kicks-off on Friday.
BetWay Kobs who finished the first round unbeaten will be out to stretch their lead atop the table when they host Gulu Elephants on Saturday at the Legends Rugby club.
Black Pirates Coach Anthony Kinene has said that his charges are going for a win in Friday's clash with Ezee Money Rhinos.
"We are fully ready for the encounter. They are the same opponents we beat 22-13 in the first round and we have beefed up our forwards," Kinene stated.
"Ronald Nalera, Herbert Gutaka, Eric Butime, Solomon Mawanda, and team captain Mathew Egeru are all available and this is a big boost for us," Kinene added.
His Rhinos counterpart Herbert Wafula said, "Our preps are geared towards improvement from the last game and I expect to see my team to have improved in the set pieces."
URU warns on indiscipline
URU has cautioned team officials, players and match officials against any act of indiscipline.
URU CEO Ramsey Olinga told New Vision Sport that clubs, players and officials risk facing harsh sanctions if their discipline doesn't improve.
"The Disciplinary Committee will punish all players, coaches and match officials alike who break the code of conduct of the spirit of the game," Olinga stated.
Olinga's warning comes at a time when the first round of the league witnessed several fights during matches with latest case being in the last game of the first round between Kobs and Heathens.