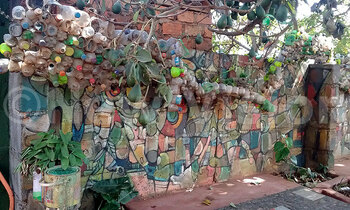 Two men are pounding a piece of steel into shape. In this makeshift huge container sits an ageing man on a sewing machine.

Behind him, art pieces are littered everywhere. In the compound, people are wielding noisily, cutting through metal. It looks like a mini-factory. Above us, the midmorning sun melts on us like brass.

Welcome to Ronex Ahimbisibwe is home and art studio.

Ahimbisibwe is one of Kampala's most talented visual artists. He is a founding member of Index Mashariki a now defunct group that promoted indigenous expression in art. Today he uses his creativity to produce not just beautiful paintings and sculptures but also well designed handbags and ornaments.

Ahimbisibwe concluded an art exhibition at Afriart gallery, Kamwokya over a month ago in which he questioned popular notions of reality.

In the exhibition entitled perception or reality, he queried the meaning of reality in light of what we see and experience. It was a visual journey in which "Ronex" explored new artistic possibilities, introducing imaginative compositions that carefully balanced aesthetics and utility.

We followed Ronex to his art studio/home- a work of art in its own right.

Located in Kikoni, Makerere, a few strides from this dusty road near Caltec Academy, his compound looks like a dumping site of arty material; rusty and broken pieces are thrown absentmindedly. "I have been here for 10 years," he said.

The house doubles as his studio; art pieces are everywhere you plant your foot, or an eye. I stared admiringly at this large art piece patched on the wall; an emotive collage of a young boy seated and pensively looking forward. I asked him how much it would cost me to yank it off the wall and take it home.

He said about UGX2M. I quickly shelved the idea as we walked through the seemingly darkened corridors, snaking through art pieces and materials and steel and metal and lots of stuff only art people can give a name.


Free-styler

Ronex doesn't look anything artistic. No. He was wearing a checkered shirt and khaki pants with a pair of push-in sandals. A few strands of grey hair crawl in his hair. He is laidback, speaks slowly and calculated. It's his signature, I want to think.

But who really is this man?

Born in 1977 in Mbarara, Ronex has been doing art for as long as he can remember. "I had been doing art in secondary school, before joining Makerere University in 2001." He went to Nkoyoyo Boarding School from 1986 to 1993. He later joined Mbarara High School and afterwards Makerere University to study Fine Art at Margaret Trowel School of Industrial and Fine Art in 1998. After graduating, he stayed around Makerere University using studio space there to do his art.

First income and his art pieces

While still at the university, Ronex used to help fellow students with their work. This earned him some little money to survive. .As time went on, he saved some money to start out on his own. He and his colleague Eria Sane Nsubuga became the first artists from a class of 62 graduates to practice visual art at a professional level.

He later teamed up with four other artists to form Index Mashariki an outfit that sought to use indigenous artistic expressions to reach out to disadvantaged communities, promote local art and provide art work at affordable prices. He became a regular exhibitor at all major galleries from Afri Art to Tulifanya to Nommo Gallery.

Ronex and team traversed East Africa, attending workshops and showcasing their work before parting ways with their manager in 2007.

He has sold many art pieces around the world. His most expensive one being at Bonhams Auction House in the UK. It cost 2,400 Euros (about sh 8.6m). He has since participated in several charity, group and solo exhbitions.

His style has since evolved from poignant subdued coloured paintings to experimental collages and functional art. He still paints and goes on to discover new ideas and medium on his ongoing artistic journey.




Ronex at a glance

On challenges

"You never know when you're making a sale… When money comes, it comes. When it doesn't, well, it doesn't. And life becomes such an unpredictable journey."

On commissioned work

"I hate commissions. I have been cheated many times and, sometimes, we had to end up in court. Some companies are fond of cheating. I had to learn copyright laws in the process."

His wish

That the government could take copyright laws too seriously in order to protect creative people in Uganda. "If the artists knew copyright laws, we wouldn't be struggling with some of our clients."

His role models and inspiration

Fellow artist Henry Mzili.

On his style:

I'm an experimental artist, trying out different things.

On marriage:

Not married, but seeing someone.

Ronex trivia


Ronex specialized in sculpture at university
While applying to join university, he put social science as his first choice course, more to please his dad than out of interest
His dad initially wished he could do a more serious professional course than art
His mum used to design wedding dresses
His grandfather was a boat carver; his grandmother a basket weaver
He is the first born of six children