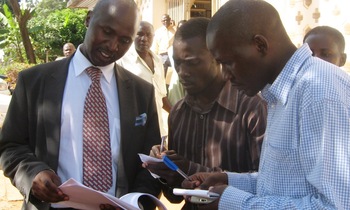 MASAKA - Court in Masaka will on March 3 (Thursday) start hearing the application filed by the Lwemiyaga County Parliamentary race candidate, Patrick Nkalubo(independent) from Ssembabule district who is demanding for a vote recount.
Nkalubo who lost the race to the incumbent area MP, Theodore
Ssekikubo(NRM) on 8074 against 9272 votes in the applications wants a vote recount of all polling stations in the constituency.
The Masaka Chief Magistrate, Moses Munoba met the two parties Nkalubo and Ssekikubo in his chambers on March 1 in a closed session in his chambers where he adjourned the hearing until Thursday to allow the EC to attend.
Ssekikubo who stormed court on Tuesday evening protested against the application for the vote recount saying it had run out of time.
He said the EC should not be allowed to conduct a vote recount on ground that the ballot boxes were opened during the district Local Government polls.
"The ballot boxes used during the parliamentary polls were opened and the ballots were removed and put in sacks, how then will they use them again for a vote recount, it means that the seals to the boxes were broken," he said.
Ssekikubo said he was surprised that the matter was going to be had in his absence.
"I was surprised that the application was going to be heard on Tuesday ex- party, I was informed by my sympathizers in court, it would have been fair if court had also served me as a third party in the matter," he said.
He said he had hired the Kampala City Lord Mayor, Elias Lukwago and Alaka among others to head his legal team that will defend him on Thursday.
Nkalubo who also hired KNT and Kobs Company advocates, said its his right to seek a vote recount. "All I demand is to have a vote recount, I demand for justice in this matter, I will be satisfied if a vote recount is granted," he said.
He said he has evidence that the elections in Lwemiyaga were marred with several irregularities.
Nkalubo has made three fruitless attempts to oust Ssekukibo since 2006.