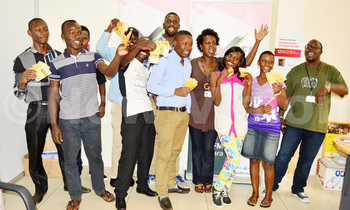 XFM radio has given out cash prizes to students who excelled in their UCE and UACE exams.

Eight students that excelled in last year's Uganda Certificate of Education (U.C.E) and Uganda Advanced Certificate of Education (UACE) got the money after participating in XFM's promotion dubbed "get paid for your As) which started in January this year and has just ended. XFM is part of Vision Group platforms.

Anthony Kanuma, promotions officer and XFM radio presenter said that the promotion targeted young XFM listeners especially from candidate classes who have excelled in their academics.

The reward was meant to make them feel special and appreciated for their excellence in academics.

"We are rewarding candidates for their excellent performance in last year's final exams. Rewarding them encourages other young listeners of XFM to aspire to be winners and therefore concentrate on their studies and pass highly," he said.

Kanuma was speaking during the handover ceremony held at JR's board Room on Friday.




Some of the winners speak out

David Wamanga, former student of Uganda Martyrs, Namugongo was ones of the students awarded sh300,000 for scoring 20 points with three A's in Physics, Chemistry, Mathematics and subsidiary passes general paper and Information and Communications Technology(ICT).

"I am very happy that XFM has rewarded us for our excellent performance, I am a 'big' fan of XFM and it is great it has awarded its young listeners. I want to pursue a bachelor's degree in electrical engineering and will use this money to buy school requirements when going to university," said Wamanga.

Stewart Kitandwe, former student of Namirembe Hill Side got 19 points in Biology, Chemistry, Mathematics and ICT, with an A in Mathematics.
"XFM is my favourate radio station, every time I get a chance to listen to radio, I am always on XFM. I am happy it has given us money, will use it to shop for requirements while joining university.