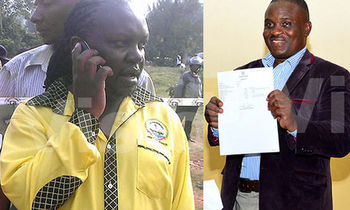 While millions of Ugandans are still celebrating the victory of their candidates in the recently concluded elections, many are still grieving and bitter about the loss of their candidates.
Wednesday's local council and district elections proved that some people are still bitter, worried, and depressed.
Some expressed their feelings on social media by writing on their walls how they were cheated, how they knew it would happen, but the bottom line is still "he/she lost" and that annoying other guy won. So how do you move on?
Jane Kalyesubula, a counselor with Uganda Cares says that coping with the fact that your candidate didn't win can be a really rough ride. It is not only because of what you feel, but because you have to deal with the people whose candidate won.
"You may need some space from certain people until things have calmed down.When you meet friends be open to them and tell them not to discuss politics, no one will go there," said Kalyesubula.
Kalyesubula also noted that if possible hang out more with people who think along the same political lines as you do. Spending time with them could be a good way to express your emotion.
"Keep in mind that negativity won't change anything; and try to believe the new leader can still do some good things for you," she says.
Fred Kyeyune, a peer counselor at Faith ministries in Mutundwe says that just move on with your daily life keeping in mind that the next election will be after five years, and it could be another story.
Being angry for long does not help. Get involved in sports, if you are a good swimmer, go and swim when the thoughts hit you, read an inspirational book, eat well and get enough sleep.
"You can make the choice to be angry and resentful, or you can make a choice to be positive and make a difference despite your personal feelings. Choose to be at peace because nothing is solved by holding onto grudges," said Kyeyune.
Kyeyune adds: "For people, who are on social media, unfollow all political debates and talks on such platforms, however you need to accept the results and relax.
Tracy Jjingo, a blogger says that when they announced the winner, she became so angry but what made her move on fast is the fact that other people did not also celebrate so she did not feel out of place.
"When they announced the presidential candidate, I was angry and regretted why I stood in the queue for long hours to vote, I felt cheated but other people's silence helped me. I knew I was not alone. Actually when I watched TV on Wednesday and realized so many had not voted, I felt happy, now I have moved on knowing I am not alone," says Tracy.
Joseph Ochen, a third year Makerere University student says that he just stopped thinking about what happened.