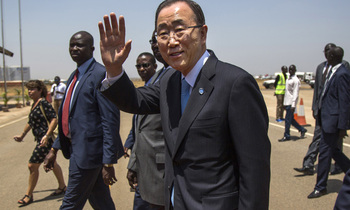 UN Secretary General Ban Ki-moon arrived in Juba on Thursday to try and revive a shaky peace deal that has so far failed to end South Sudan's two-year-old civil war.

Ban was greeted at Juba's airport by Foreign Minister Barnaba Marial Benjamin before being driven to see President Salva Kiir whose dispute with rival Riek Machar triggered civil war in December 2013.

Fighting has continued despite an August peace deal with at least 18 killed in the latest incident in the north-eastern town of Malakal last week when government soldiers participated in an attack on a UN-protected camp for nearly 50,000 civilians seeking shelter from the war.

The August deal, signed under international pressure, leaves Kiir as president and returns Machar to his old job as deputy, but in a sign of the levels of mistrust between the two men Machar remains in exile despite his reappointment earlier this month.

The battle for control of the country has repeatedly pushed South Sudan to the brink of famine, with millions only saved from starvation by the intervention of the UN and aid agencies.

South Sudan won its independence from Sudan in July 2011 after decades of civil war, but less than 18 months later Kiir and Machar's political battle for control of the ruling Sudan People's Liberation Movement (SPLM) became a real war splitting the country along ethnic lines, pitting Kiir's Dinka people against Machar's Nuer.


The conflict has been marked by rights violations and attacks on civilians with children murdered or recruited into militias, women and girls abducted into rape camps and used as sex slaves, multiple ethnic massacres, attacks on UN bases and aid workers.

An African Union investigation published last year found evidence of forced cannibalism and concluded that war crimes had been committed.

A succession of UN rights reports have also found evidence of war crimes.

Neither Kiir nor Machar have faced any sanctions for the actions of armed forces under their command.

During his visit Ban is due to visit a UN camp in the capital housing people uprooted by the fighting, some of the more than 2.3 million South Sudanese forced from their homes since the war began.