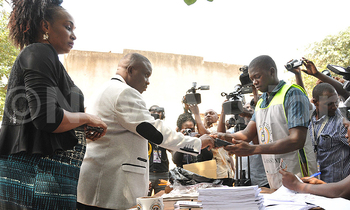 Although voting materials were delivered in time to most of the polling stations in Kawempe division by the electoral officials, very few people turned up to engage in the electoral process.

At most of the polling stations visited by New vision in Kawempe, it was very hard for one to know that the elections of the Lord Mayor of the country's capital city and Lord councilors were taking place.

Muhmood Mutazindwa, an aspirant in Kawempe said that he was not surprised by the low turn up of the voters because many have been complaining of the election fatigue, demoralization following the outcome of the just concluded presidential elections.

"As you know, most of the people especially in Kampala were disappointed by the outcome of the presidential elections. They vowed never to participate in the elections until 2021," Mutazindwa noted.

At Kawempe Mbogo Muslim and St. Peters Primary School, Rock and growers which are the biggest polling stations in Kawempe, by 2: pm, less than 300 people had voted.