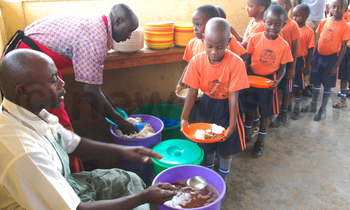 Effective this year, March 1st will be recognised annually as the Africa Day for School Feeding, the African Union (AU) has announced.
The day, which was instituted by the Assembly of Heads of State and Government during the 26th AU Summit earlier this month aims at recognising the value of home grown school feeding to enhance retention and performance of children in school.
Home grown school feeding programme is an initiative that encourages small-scale farmers to grow and supply food to schools.
The AU hopes that the programme will not just solve the hunger problem among school children but also boost incomes and entrepreneurship in local communities.
In a press statement issued yesterday, AU noted that a number of African countries which were implementing school feeding programmes were facing challenges that come with unreliable funding.
"Due to inadequate financing and heavy dependence on foreign donors, poor logistical arrangements and provision of dry food lacking in dietary diversity, the programmes often fall short of meeting the required impact. This is one reason why the emphasis has shifted to Home Grown School Feeding, due to its integrated, multisector approach," the statement reads in part.
This year, the first edition of the school feeding day will be observed under the theme "Home Grown School Feeding: a Conduit for Africa's Sustainable Development."
It will be a culmination of several initiatives "and efforts aimed at assuring quality universal school enrollment in Africa, and putting school feeding at the centre of solutions to help African children from the poorest households, and who live in difficult areas, to have access to quality education in a safe and conducive environment," the AU further stressed.
The AU Commission's drive to root for school feeding on the continent was inspired by the Brazil where the government has ensured that that every child goes to school through a robust school feeding programme .
Brazil has been able to lift 50 million families out of absolute poverty through the Home Grown School Feeding programme that has provided a social safety net and enhanced social and economic inclusion.
The programme has been found to contribute significantly to rural development by making small scale farming attractive in generating income, introducing new employment opportunity and profitable occupation for youth, with the potential for building entrepreneurship and innovation among poor .
"In the fight against hunger, school meals are a sound investment in the future of the next generation," AU states.
The step comes at a time when feeding is a contentious issue in Uganda.
Last year, the ministry of education and sports asked primary schools from across the country to feed their children in a bid to curb absenteeism and poor performance tagged to hunger.
Education Minister Jessica Alupo said school authorities should discourse with parents on modalities of feeding children.
"School management committees, board of governors and parents and teachers' associations are urged to feed all children at school without fail," argued Alupo.
The minister said she expected schools in the rural areas to easily find food to feed their pupils since the countryside is the arbiter of all sorts of food items
By 2010, there were over 8.7 million children studying in Ugandan primary schools- with more than of a half of that number not being fed in schools.
Owing to the high dropout rates partially fuelled by lack of meals in schools in Uganda, a 2014 report by the United Nations Educational, Scientific and Cultural Organization (UNESCO) established that completion rate is low, affecting access rates to the subsequent cycles.
It emerged that although almost every child enrolls in primary one, 63% of the generation reaches primary seven; only 49% enters lower secondary and ultimately only 10% reach senior six.
In a 2010 memo to cabinet, the education ministry stated that hunger is one of the main reasons children perform poorly in UPE schools. It explained that hungry children have poor concentration, poor mental abilities, absenteeism, bad behaviour, poor health and are school drop-outs.