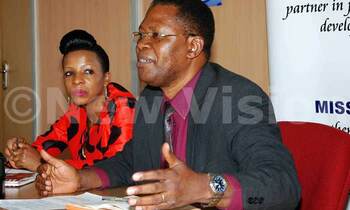 The business community is warning that the economy may have to take a slump before fully recovering because of the election and post-election speculations and uncertainties.

Gideon Badagawa, the Private Sector Foundation Uganda (PSFU) boss says because of the "wait and see" effect, there has been reduced output and employment which may take about six months to even out.

"We are going to dip before we rise again, tourism will be hit, if we can gain back confidence, it will take time say six to nine months," noted Badagawa in an interview.

Badagawa stated that uncertainty hurts the economy and that in the short term, foreign currency is going to be scarce. Already in the run-up to the election year, demand for government paper dipped and government has cut its domestic borrowing targets by sh500b to sh900b from sh1.4 trillion.

"We have to give ourselves time to calm down, it is not going to be an event, and there has been an erratic mood," urged Badagawa.

Annual inflation eased to 7.6% from 8.4% recorded in the previous month but still comparatively high looking at the figures of two years ago. Rising inflation means the value of investments has been slashed.

He urged businesses to resume fully and normally even though there are issues to do with confidence in the economy and image of the country adding that there should be no cause for alarm since government has given its reassurance of security.

"We need to tolerate one another, this is not one thing I read in our society, this has to be promoted. If there are issues, we must resolve them through the law and there should be a fair hearing," noted Badagawa.

He said for the past three months, there has been a "wait and see, before you invest" attitude among businesspeople.

He called for extensive civic education in the run up to future elections to enable people prepare for the outcome of elections and contain potential animosity. "This is government's role to educate people because it determines the destination of the country," noted Badagawa

Uganda Manufacturer's Association, a private sector lobby group asked government to quickly rebuild confidence around the key macroeconomic indicators.

"There is a lot of speculation, government should put commitments on exchange rates, inflation," noted a senior member at UMA adding that because of speculation, people have held back investments.

"Currently everyone is on a different island," noted the UMA official.