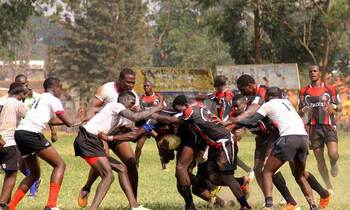 Saturday at Legends

Pirates v Monger

Rhinos v Buffaloes

At Makerere

Impis v Rams, 4:30pm

Gulu

Gulu v Warriors, 4:30pm

Black Pirates coach Anthony Kinene looks forward at today's (Saturday) win against Sadolin Mongers to stay third on the Nile Special Premier Rugby League table standing as the first round comes to its climax.

Pirates minus their star flanker Marvin Odongo face the hard fighting Mongers who want to rejuvenate their past glory by finishing the league among the top three this season.

The Entebbe side, according to coach player Kigongo Ssebalamu, has corrected their mistakes and are out for a win.

"We just made a few mistakes and we were punished by Heathens but we are out to revenge against Pirates," Kigongo stated.

However, the Black Pirates coach Anthony Kinene is not ready to give up his winning form and his charges are much focused especially after getting a BUZZI Events and Little Liz Bar and Restaurant sponsorship.

"We are ok, the boys are good shape but discipline is something we have to improve on because we shall miss services of flanker Marvin Odongo who got a red card in the 41-10 win against Rams," Kinene noted.

Pirates last week got sponsorship and discipline must be paramount to keep the image of the sponsor.

Rhinos host Buffaloes

Rhinos who suffered a 26-13 defeat by Heathens host Buffaloes who lost 27-14 to Kobs in the Battle for fourth position on the table in by end of the first round.

"We are looking at correcting our mistakes last week and be able to go for a win targeting the fourth position by the end of the first round," Buffaloes coach Tolbert Onyango stated.

Onyango is however worried of his players' size as he said, "We are the lightest team but we will take on them as we try to bulk our player up ahead of the second round," Onyango stated.