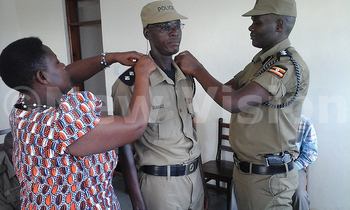 Police in greater Bushenyi region will start auditing newly promoted officers.

The regional police commander, Micheal Musani Sabila, said the move is aimed at enhancing effective performance of the police officers and accountability to Ugandans.

Speaking at the piping ceremony of the newly promoted officers in greater Bushenyi region held at the regions headquarters on Tuesday, Musani said this is the time to clean up the force and make it more effective to deal with the 21st century challenges.

"We have huge and many challenging tasks ahead of us. We are going to start a new system of every officer auditing whatever he does on daily basis,"he said.
A total of 10 officers, including Musani were promoted to various ranks. These included Assistant superintendent of police, superitendant of police and senior superintendent of police.

Musani was promoted to the rank of senior superintendent of police, while JohnBens Musasizi , the regional community liaison officer, Robert Mutende, the regional crime intelligence officer and Charles m Muhereza, the Sheema OC station were all promoted to rank of assistant superintendent of police.

Musani said the promotion of the officers of which some had taken many years was a big motivation to the officers.