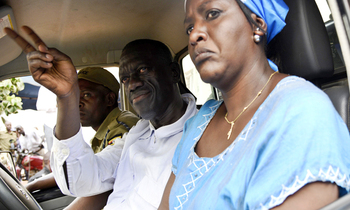 Main Opposition (FDC) presidential candidate Kizza Besigye has been detained at Kira Road Police station.
The arrest followed chaotic scenes as Besigye campaigned in parts of Kampala including Kamwokya.
Besigye was heading a procession from Kamwokya to the city centre and reportedly refused to adhere to police instructions to use Mukwano Road instead of the busy Jinja Road.

Besigye is reported to have refused, but was cut off at Kitgum House.
Defiantly he got out of the car to continue on foot.

This prompted police to fire tear gas to disperse crowds that were following him and later he was arrested by the District Police Commander Aaron Baguma.
A number of leadera have reacted to Besigye's arrest. Democratic Party president general Nobert Mao said: "We condemn this unconstitutional and outrageous action by the NRM regime."
By 1:30pm, there was a growing crowd of FDC supporters gathering outside Kira Road Police Statio chanting "Besigye, Besigye" as they called for his release.
Besigye was whisked away from Kira Road Police Station in a police van to unspecified location.
A senior Police officer forced himself onto Kampala Woman MP Nabilah Sempala's thighs during the arrest. He tried to squeeze himself in an anterior seat of a Police Patrol vehicle which a policeman (driver), Besigye and MP Sempala had already occupied.
However, the Minister for the Presidency and Kampala city, Frank Tumwebaze defended the arrest.
"Why a rally in the central business district of Kampala? Besigye was trying to seek for publicity just after sensing defeat ahead. Just imagine a rally at Nasser Road? Madness just. Police have duty to protect all Ugandans," the minister tweeted.