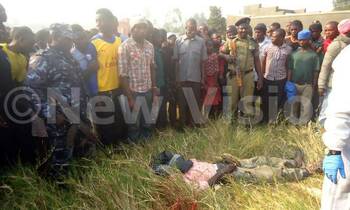 A businessman in Mbarara town has been robbed of over sh110m as he prepared to bank.

The early morning incident happened Monday at Hosma Stationery Shop, right in the center of Mbarara town.

Two men snatched the money from one of the employees of Hosma stationary as she prepared to take it to the bank.

In the process, a third man who was waiting outside the shop, shot in the air to scare off onlookers.
The two robbers who had the money rushed to a gateaway car that waited for them outside and took off leaving the gunman behind.

The gunman - who has been identified as Mukasa Vincent according to his national ID - was pursued by people as he shot at them and in the air to scare them off.

In the process, he shot dead one Tumusiime Rukoza. However, he was overwhelmed and lynched by the baying mob.

Prof. Hosiya Muhanguzi, the owner of the shop said that the gunman aimed at him but he narrowly dodged the bullet when he bent to pick his cell phone that had fallen.

Police arrived later at the scene but were yet to comment about this incident.