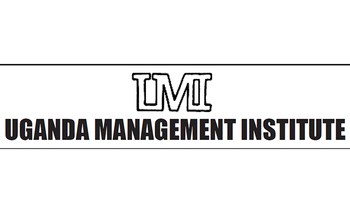 UGANDA MANAGEMENT INSTITUTE
VACANCIES ANNOUNCEMENT- (OPEN ADVERT)
Uganda Management Institute (UMI) is a Management Development Institute with a Mission "to Excel in Developing Practical and Sustainable Administration, Leadership and Management Capacity". It provides management training, consultancy and research services in response to the demands of the public, private and development courses, the Institute offers high quality career development management courses at Certificate, Diploma, Postgraduate Diploma and Higher Degree Levels. The Institute's activities are currently carried out at the main campus in Kampala and its Centers in Mbarara, Gulu and Mbale.
In order to carry out its functions efficiently and effectively, the Institute seeks to recruit suitably qualified persons in the full time posts of;
A. SENIOR RESEARCH FELLOW (1- Position)
● Reports to: Chief of Research Centre
● Salary Scale UM 3a
● Main purpose of the job: To promote and coordinate research goals and activities in the Institute, as well as spearheading the Institute Policy Think Tank and Intelligence Research.
● Key Result Areas:
(i) Research coordinated;
(ii) Research interests promoted;
(iii) Research funds solicited;
(iv) Public research debates and symposia managed; and
(v) Research innovations managed
● Person Specifications:
(i) Honors Bachelor's First or Second Class Upper and Master's Degree in social sciences and/or Management related areas;
(ii) Three (3) years of Research experience in any research based institution;
(iii) At least three (3) new recognized publications in social sciences and Management related areas, (copies of the publications should be attached);
(iv) Well-developed interpersonal, organizational, fundraising and analytical skills;
(v) Proven record of leadership abilities and a clean disciplinary record;
(vi) Knowledge of policy making, Implementation and Governance issues in Uganda and the region is a requirement; and
(vii) Experience in teaching and supervision of graduate students will be an added advantage.
B. PLANNING, MONITORING AND EVALUATION OFFICER (1- Position)
● Salary Scale: UM 4 (a)
● Reports to: Senior Planning, Monitoring and Evaluation Officer
● Main Purpose: Offering assistance in coordinating and spearheading the entire Planning, Monitoring and Evaluation process in the Institute
● Key Result Areas:
(i) Support provided to the various units and departments of the institute in the planning and budgeting process;
(ii) Support provided in harmonizing departmental as well as unit work plans and budgets; and
(iii) Reviewing and Implementation of the Monitoring & Evaluation system supported.
● Person Specifications
i) An honors bachelor's degree in Quantitative Economics, Statistics or equivalent qualification(s)from a recognized institution;
ii) Post graduate training in planning, M&E will be an added advantage; and
iii) At least three (3) years relevant working experience preferably in the Public Sector.
● Required Competences:
i) The logical framework approach and other strategic planning approaches;
ii) M&E methods and approaches;
iii) Planning and implementation of M&E systems;
iv) Skills in M&E development and implementation; and
v) Information analysis and report writing.
C. CONSULTANT IN MONITORING AND EVALUATION (1 Position)
● Salary Scale: UM 4 (a)
● Reports to: Head of Department
● Main Purpose: Designing and delivering quality and appropriate administrative management courses, carrying out relevant research and consultancies in administrative management for personal growth and development and contribute to the world of academia in administrative management.
● Key Result Areas:
(i) Quality teaching materials developed;
(ii) Acceptable knowledge and skills in course delivery demonstrated;
(iii) Courses converted into e-learning packages
(iv) Course delivery through e-learning support ensured;
(v) Examinations set, marked, graded and results submitted on time;
(vi) Cooperation with other Consultants and Institute Managers on all matters related to academics ensured; and
(vii) Research findings and consultancy reports documented and produced.
● Person Specifications:
(i) Applicants must have a minimum of a Master's Degree related to Monitoring and Evaluation from a recognized University or Institution;
(ii) An honors first degree is a requirement for all applicants;
(iii) Applicants with a professional qualification or postgraduate qualification in Monitoring and Evaluation from a recognized University or Institution will have an added advantage;
(iv) At least three years' teaching in a University or other Institutions of higher learning will be required for all applicants but those with substantial managerial experience gained with reputable organizations will be considered;
(v) Should be aged 30 years and above;
(vi) Literacy in all MS Office applications is required;
(vii) Ability to deliver high quality training in a wide range of fields to adult learners; and
(viii) Ability to conduct research and undertake consultancy assignments
D. Rewards and other terms of service:
Successful candidates will on being confirmed in appointment, be offered five-year renewable contracts, a competitive basic salary complemented by housing allowance, medical allowance, transport allowance and an attractive gratuity scheme. Staff are also provided with support for continuous personal development.
E. Mode of application:
Applications (hard copy) with comprehensive typed CVs, certified copies of transcripts and certificates together with the applicant's telephone contact, names, addresses and telephone numbers of three referees should be received at the address below not later than 3.00pm Friday 26, February 2016.
The Human Resource Manager
Uganda Management Institute
Plot 44 - 52 Jinja Road, P. O. Box 20131 KAMPALA
Tel: 0414-259722/ 265139/ 265140/265138
NB: Full details of this advert can be viewed from our website: www.umi.ac.ug